About VapeOnly XL/Mega Zippered Carrying Case for e-Cigarette
VapeOnly is known as a high-end electronic cigarette brand that produces luxurious, high-powered and efficient mods for every vape enthusiast, no matter what their preferred styles are. This brand is constantly updating their styles and selections, determined to never let their customers down. Their newest products, including the VapeOnly vPipe kit, the VPulse battery and their unique cartomizers, can all be found here as well as a vast selection of other VapeOnly products for your consideration, all at a low prices.
VapeOnly XL / Mega Zippered Carrying Case for e-Cigarette

This electronic cigarette Zippered Carrying Case is Genuine VapeOnly product, XL / Mega size.
There is a thin film on the metal "VapeOnly" logo to protect it from scratching.

Looking at the image, we pack the following items: (it is only used for example, it is not included with the carrying case).
1x Innokin itaste SVD VV/VW MOD
1x vapeonly vPower 18650 variable voltage MOD
1x Panasonic NCR18650B 3400mAh rechargeable Li-Ion Battery
1x 2600mAh SANYO rechargeable Li-Ion 18650 Battery
1x Innokin U-can V2.0 10ml Stainless Steel Portable E-juice container
1x 3ml Innokin iClear30 eGo Dual Coil Clearomizer
1x 2.5ml KangerTech Unitank Plastic Clear Cartomizer Top Filling
1x 3.5ml Vapeonly BCC(Bottom Coil Changeable) mega Clear Cartomizer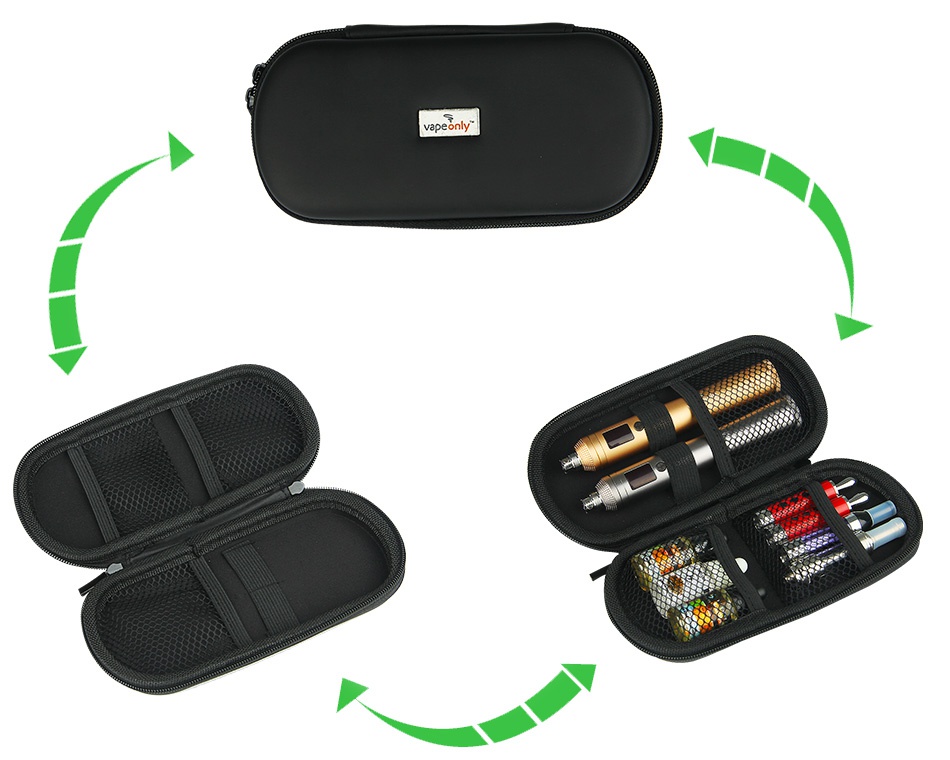 IncludingVapeOnly XL / Mega Zippered Carrying Case for E-cigarette1pc

SizeLength*Width*Thickness19cm * 8.5cm * 5.4cm


PackageSimple paper box. Customary Packing from the factory,the packing is subject to change without notice.