About Encom Snow LeoPard TX 150W TC MOD
A classic box mod, the ENCOM TNT80W 26650 VW Box Mod will give you everything you need in a vape. The box mod is made out of durable aluminum material that houses an ultra-powerful, long-lasting 26650 battery that is capable of delivering 5000 mAh of power. The back cover is magnetic and easy to remove for simple changing of batteries. The 510 spring-loaded thread allows for you to effortlessly put on any tank of your choosing. The ENCOM box mod runs between 7 and 80 watts.
Sleek and modern, the Encom Snow LeoPard is every bit as stylish as it is functional, offering a resistance range between .05 and 3 Ohms, letting you sub ohm if you choose. The vape can be operated between 213 and 650 degrees Fahrenheit to give you the warmth and clouds you're after. Measuring a compact size of 22 millimeters by 69 millimeters by 103 millimeters, The Snow LeoPard is crafted from zinc alloy, PC and ABS plastic and comes with easy-to-load 510 threading.
150W Encom Snow LeoPard TX VW/TC MOD
Product Instructions
Parameters
Size: 98 x 55 x 25mm
Material: Zinc Alloy + ABS + PC
Variable Voltage: 6.2V - 8.4V
Variable Wattage: 5W - 150W
Temperature Control: 100 - 350℃/ 200 - 662F
Atomizer Resistance: 0.05ohm - 2.5ohm
This product comes with
1 x 150W Encom Snow LeoPard TX VW/TC MOD
1 x Silicone Bracelet
1 x Manual
Simple packing. Customary packing from the factory, the packing is subject to change without notice.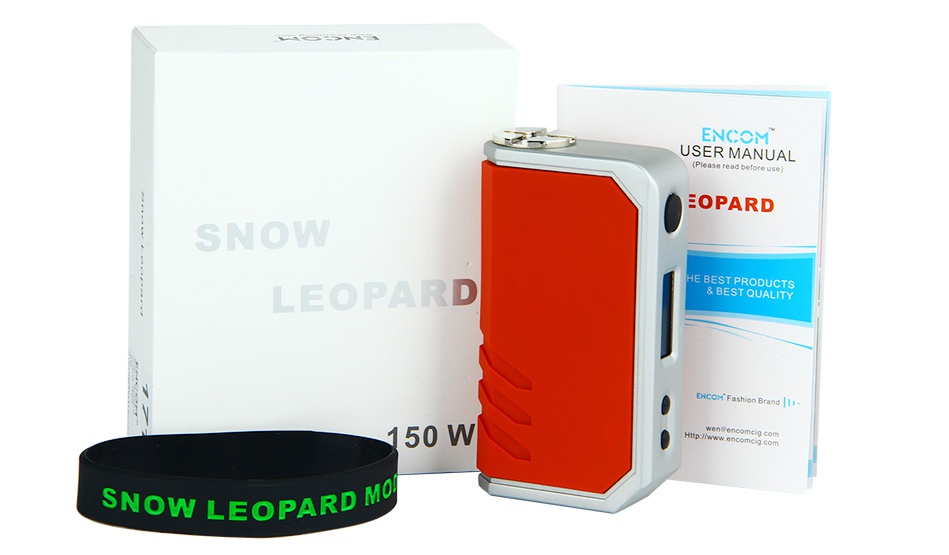 Features
1. Spring-loaded Pin
2. Magnetic and Changeable Battery Cover
3. 150W Maximum Output Wattage
4. Simple and Clear Interface
Operation Guide
Power On/Off: press the fire button 5 times in succession to turn on/off the device.
Switch Mode: press "+" and "-" simultaneously for 2S to switch between VW/TC mode.
Lock/Unlock: press fire button and "+' simultaneously to lock/ unlock the device.
Set Resistance: press fire button and "-" to set the resistance.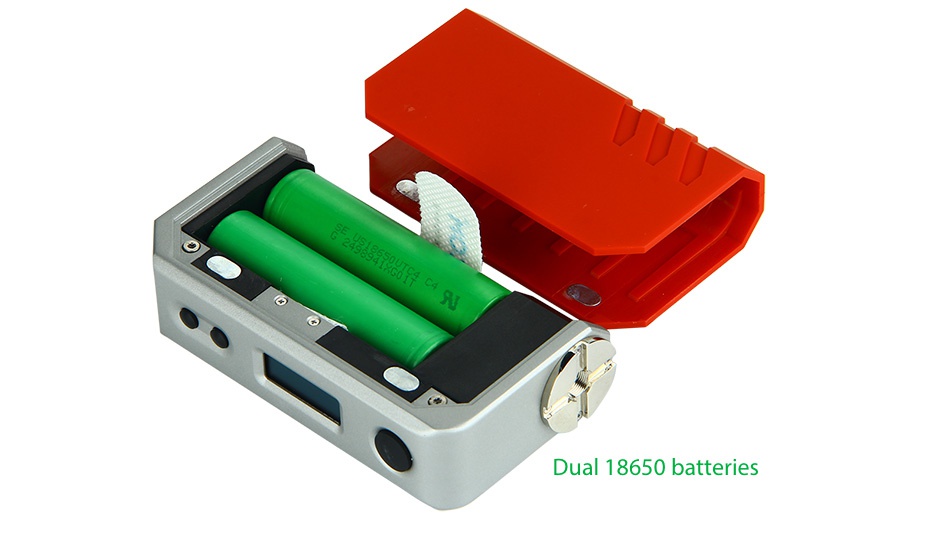 It can work with 510 threaded clearomizers/tanks.
No cartomizer/tank comes with.
It doesn't come with 18650 lithium battery, you shall buy separately.
There is CE mark on the bottom of MOD.
Guarantee
Please check Guarantee Policy.
Guarantee period: 6 months for the MOD.
Safty Efficiency+)Tech