About GTRS VBOY 200 TC Box MOD with SX500 Chip
The GTRS GT 150 was launched by the GaoMeiTe Tech, in partnership with the LIMOU chip organization. If we look at its design, it is a tiny mod powering 150W output. Other features include: OLED display, double RC batteries and ergonomic design (ensures a comfortable grip).The vape data is displayed on the OLED, in a clearly visible font with a black background. A LIMOU chip is present within the GTRS GT150 mod, this chip enables versatile operation of the vape.
GTRS VBOY 200W, launched by YiHi and GTRS, is an e-cigarette TC box mod. Its features include HD color screen (1.3 inch TFT IPS), 240 * 240PX resolution, you can replace it with a wallpaper very easily, offers visual enjoyment. Furthermore, it consists of dual batteries (18650) and high-performance chip (SX500) which enables it to power up to 200W. The property rights for the YiHi chipset are intellectual. Batteries can be replaced easily with the battery cap that can be pushed. It is created by a popular designer Alan, and is known for its high quality design and appearance.
Product introduction
The innovative push-type battery cover provides an easy way to replace the batteries too. Designed by the well-known designer Alan, this device is unique in appearance. The VBOY 200 will definitely become a long-term vaping partner in your life!

Parameters
Wattage: 5-200W
Resistance Range: 0.05 - 3ohm, best at 0.1 - 0.5ohm,
Temp range: 200F- 600F/ 100℃- 300℃
Battery: 2 x 18650 Batteries (not included)
Display Resolution: 240*240
Modes: TC-Ni/TC-Ti/TC-SS/VW/TCR
Joule mode(J): 10-120J, Support Ni200/Ti/SS316L
Voltage: 6.6 - 8.4V
Maximum Current Output: 32A
Maximum Current Output: 45A
Font: 2 kinds of fonts
Stand-by time settings: 30s - 3min
Power & Joule Memories: Each M1 - M5
Taste: Standard/Powerful/Powerful+/Curve/SOFT
Thread Type: 510 spring-loaded thread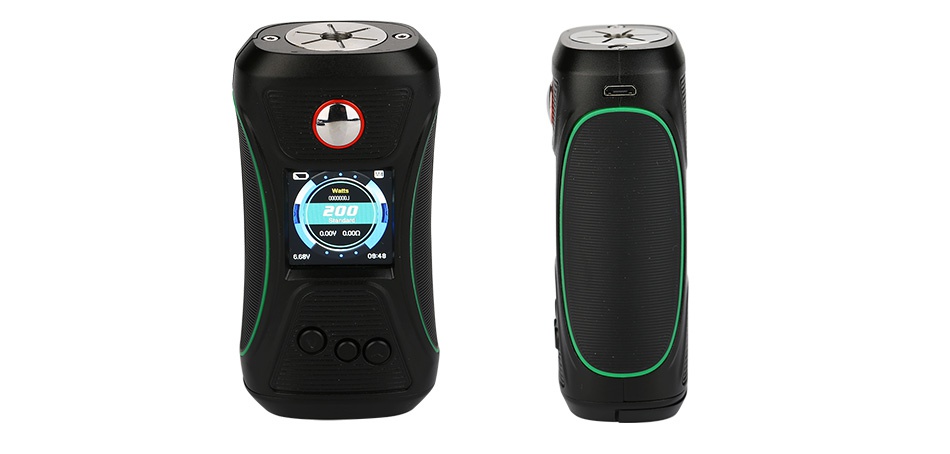 GTRS VBOY 200 TC Box MOD with SX500 Chip contains
1 x VBOY 200 TC Box MOD
1 x USB Cable
1 x User Manual
1 x Warranty Card
Simple packing. Customary Packing from the factory, the packing is subject to change without notice.


510 Thread.
Wallpaper: Switchable wallpapers. You can customized 5-10 wallpapers after connecting desktop software SXI.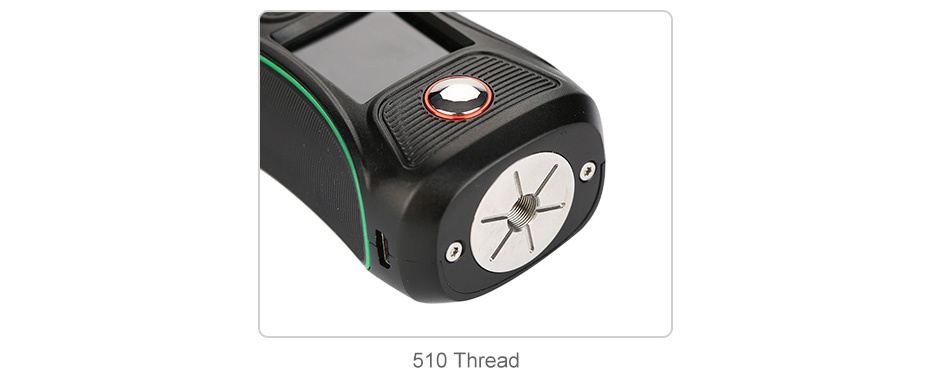 Features
YiHi SX500 High-performance Chipset
1.3-inch TFT IPS Full Color Display
10 Pcs Changeable Wallpapers
Pure Silicone and Plastic Side Paster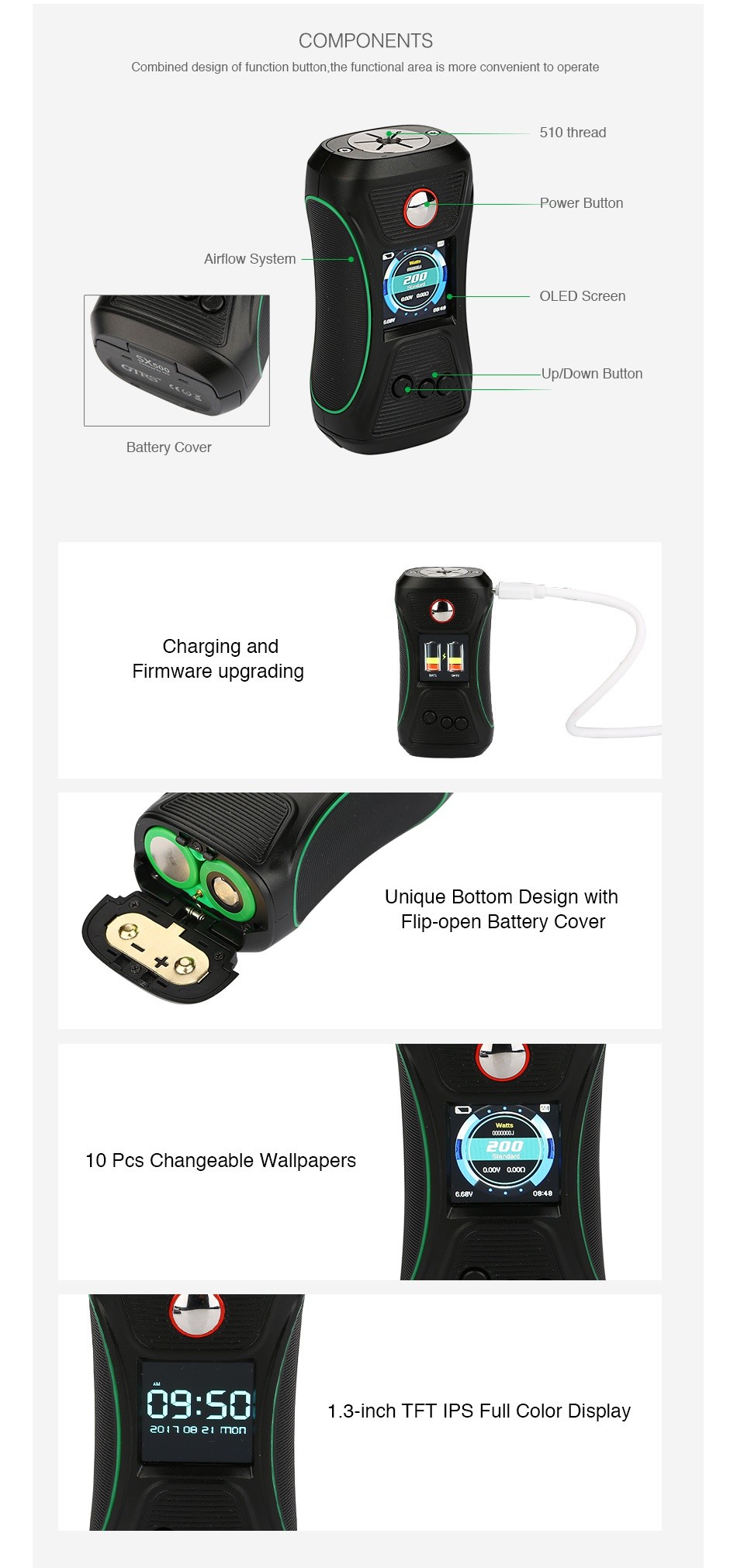 Operation Guide
Turn on/off & Main menu operation: Click the fire button 5 times in 2 seconds, the screen shows logo then the system turns on. In standby mode, click the fire button 5 times within 2 seconds to enter the main menu, click "+" and "-" button to switch between different modes. Choose SYSTEM OFF then click Mode button, the device will be turned off.
Wattage, Joule, Temperature setting: On standby mode, click Mode button then the number will turn to red, click "+"/"-" button to increase or decrease, click Mode button switch power Watts/Jouile/TC.
Font Select: On main menu mode, click Mode button to enter the Font select, then choose Fontl or Font2 with "+" and "-" button.
Adjust Temp: On main menu mode, click "+" or "-" to choose Centigrade or Fahrenheit.
Select coil: On main menu mode, click "+" or "-" to choose Select Coil, then you can select between Ni200/Ti/SS316L/SX Pure/TCR.
Wallpaper Select: On main menu mode, choose Wallpaper Select, you can choose 1-10 wallpapers.
Brightness: On main menu mode, choose Brightness, click "+" or "-" to choose brightness 1-10.
Guarantee
6 months for VBOY 200 TC Box MOD. Please check guarantee policy.