About FreeMax Starre DVC Coil 5pcs
A brand that is well known for its top-quality designs and fresh new takes on modern vapes, Freemax has been consistently churning out high quality products that vape enthusiasts everywhere are in love with. Their tanks are primarily designed to support high-wattage mods, giving you tanks that can take the heat of whatever you throw at it. They use wide bore drip tips with adjustable air flow for total customization of each hit. Find your favorite Freemax vape in this section at an affordable price.
Sub ohm in style with this Freemax Starre. This sleek, modern tank gives you a large four-milliliter tank that will help spread out the times between refills for your convenience. The unit is made with medical-grade stainless steel that is able to withstand frequent use without wearing down. The heat-resistant and anti-corrosive glass helps to prolong its life as well. Inside, patented ceramic coils work to deliver a crisp, clean flavor and smooth vaporization process offers a satisfying hit every time. It can hold four milliliters of ejuice at a time and features both a top and side filling system for simplicity and to reduce spills.
5pcs DVC Coil for FreeMax Starre Tank
Product introduction
5pcs DVC Coil for FreeMax Starre Tank, is the special dual vertical coil for Starre Tank, 0.25ohm and 0.5ohm two resistances available.
Parameters
Resistances: 0.25ohm, 0.5ohm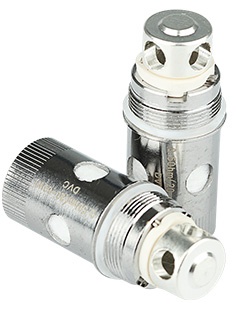 FreeMax Starre DVC Coil 5pcs contains
1 x 5pcs DVC Coil for FreeMax Starre Tank
Simple packing. Customary Packing from the factory, the packing is subject to change without notice.
Detailed Instructions
Features
Innovative dual vertical coil technology
Big range of loading power: 20 to 100W
Medical or food grade materials