About VOOPOO Alpha One 222W TC Box MOD
The inauguration of VOOPOO was in 2014. The primary work of VOOPO is the production of electronic cigarette, and this work started after getting the ownership of the U.S. brand. The name of the brand was WOODYVAPES in 2017, and now the VOOP has the global sale, and it is a well-reputed brand. The motto and aim of VOOPOO are to serve millions of electronic cigarette users on this Earth. There is a continuous increase in the technology trends in the company, and that is the reason for the international fame of the VOOPO. Thus, it is the brand which is known for its technology and techniques. VOOPO is very conscious for the craftsmanship. The company also aims to get more advancements in the scientific trends and techniques. There is advancement like fast ignition so that the electronic cigarette is now more safe and secure.
With its incredible maximum output of 222 watts, the VOOPOO Alpha One TC Box Mod allows you to vape at your preferred temperature no matter how high that may be. The unit can run between 200 and 600 degrees Fahrenheit and has a minimum atomizer resistance of .5 ohms, allowing you to easily sub ohm at higher heats. It is compatible with Titanium, Ni200 and stainless steel coils, helping to further the customization potential of the vape. Many protective features are built into the VOOPOO Alpha One TC to guard against over discharge, over temperature problems and overcharge issues.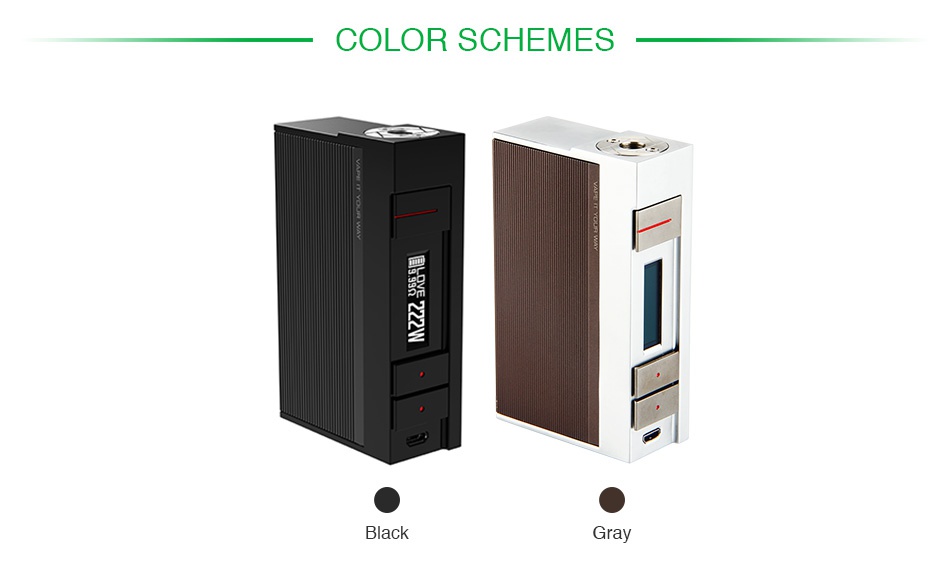 Specification
Parameters
Size: 89.5 x 54 x 25 mm
Output Power Range: 5-222W
Working Voltage: 6.4-8.5V
Battery: 2 x 18650 batteries (not include)
Output Voltage Range: 0-7.5V
Working Current:1-45A
Resistance: 0.05-3.0ohm(Wattage Mode), 0.05-1.5(TC Mode)
Temperature Range:200-600F/100-315℃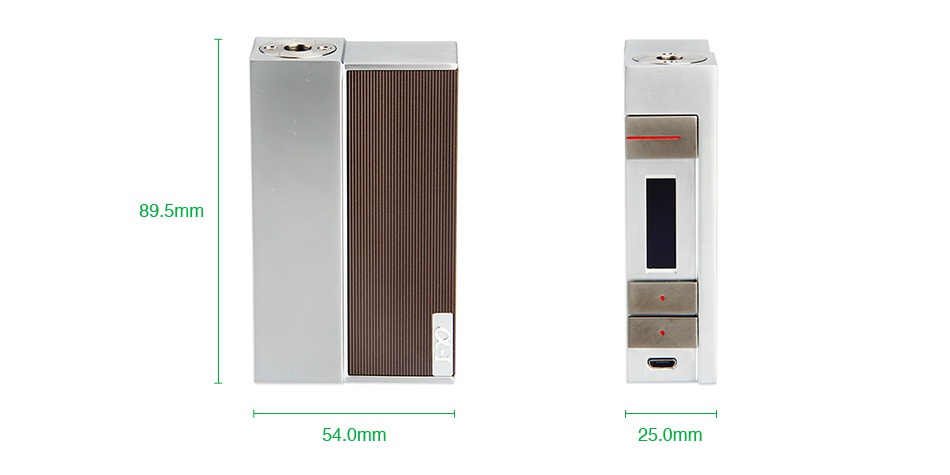 Feature
Innovative LOVE Pulse mode
US-made GENE.FAN Chip with 222W output power
Fastest fire speed of 0.025 second
Upgradable firmware with USB cable
Various battery protection functions
Cool, clean and attractive appearance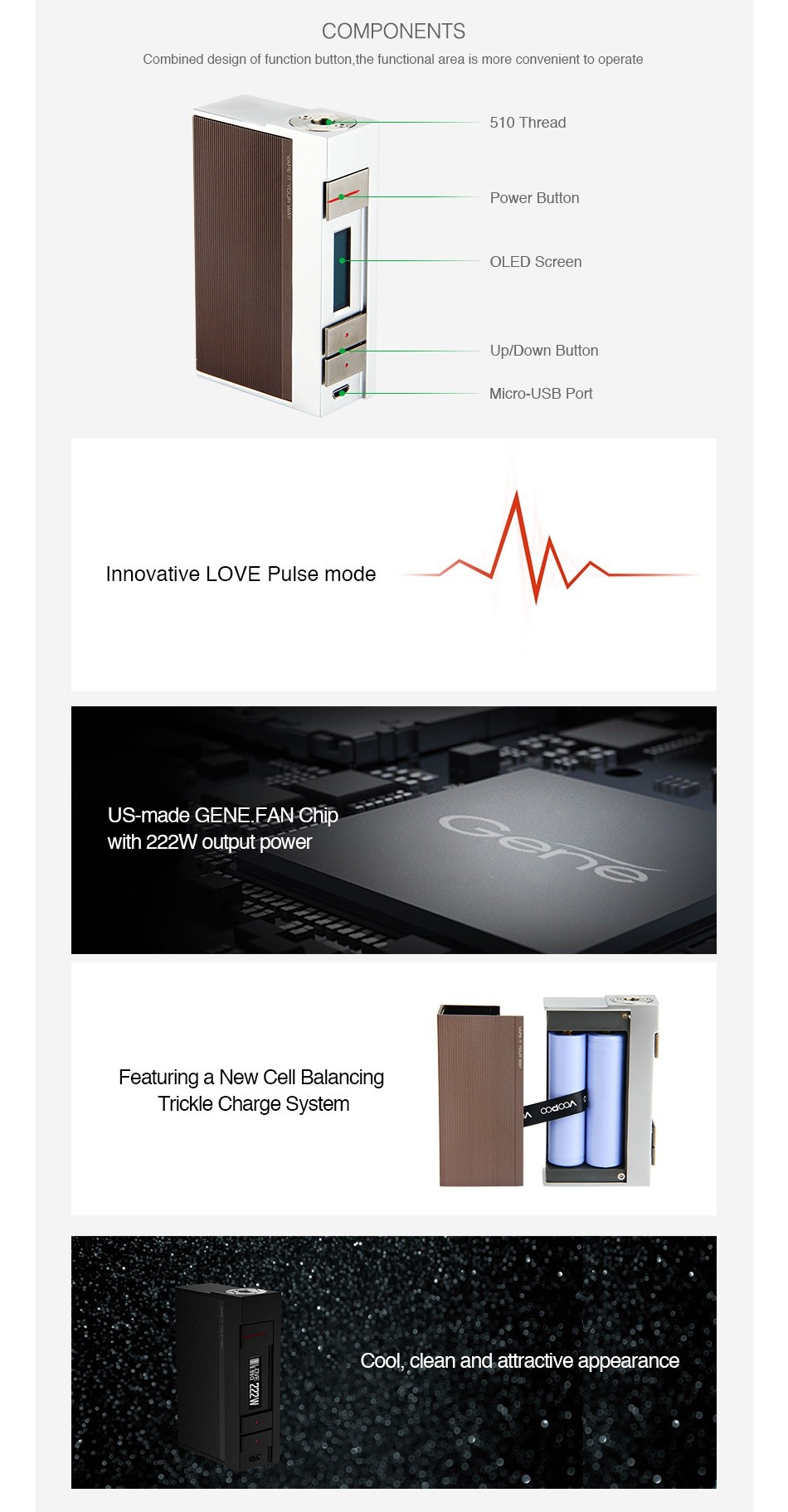 Packing
VOOPOO Alpha One 222W TC Box MOD contains:
1 x VOOPOO Alpha One Mod(without cell)
1 x USB Cable
1 x User Manual
1 x Warranty card
Simple packing. Customary Packing from the factory, the packing is subject to change without notice.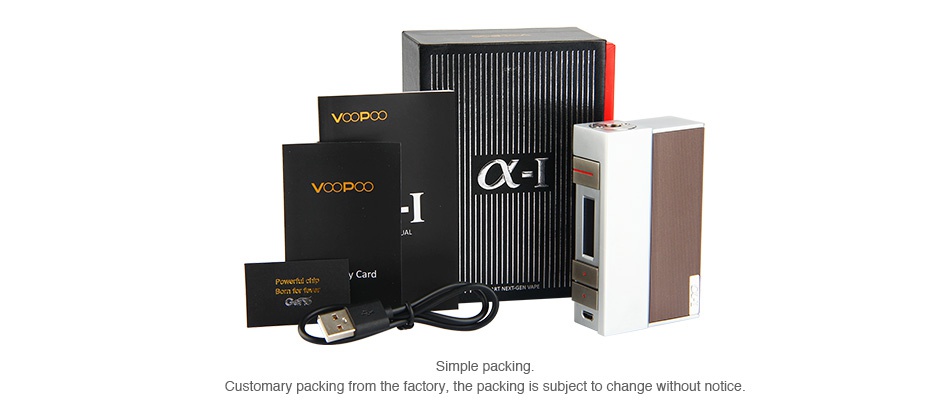 Order Tips
It doesn't come with 18650 lithium-battery.
510 thread. Compatible with most 510 thread atomizers such as DEMON RDA.
Operation Guide
Power on/off: Press the fire button 5 times in quick succession to turn the device on and off.
Mode Switch:Press the fire button 3 times quickly, the four interfaces can be switched orderly under normal startup condition. Constant power and temperature control SS/Ni/Ti.
Temperature Mode: When the temperature was set to 100℃, keep on pressing the down button, temperature will turn to 600F. When the temperature was set to 200F, keep on pressing the down button, temperature will turn to 315℃. Quickly press the fire button 4 times can get into wattage adjust interface. Then you will see the letter "W" is flashing.
Wattage Mode: The available range for wattage control is 5W-222W. Each adjustable step is 1 watt. Default LOVE mode is 16W-222W(The LOVE mode can be turned on or of in function menu).
Function Menu: Press up and down buttons simultaneously for 1.5 seconds, enter the function menu interface. Press up button or down button simultaneously to choose th function. Press the fire button to make confirmation and go to next step.
Guarantee
6 months for VOOPOO Alpha One MOD. Please check guarantee policy.