About Joyetech eVic-VTC Mini 75W TC Full Kit
Joyetech is offering you electronic cigarette and e-liquid products too. They bring in a ton of VG and PG flavors too. Everything is easy to carry, and the company releases a plethora of e-cig kits for your convenience like Atopack Penguin, eVic VT, Primo and AIO, as well as Cuboid, UNIMAX and many others.
The Evic stand as one of the most in demand vegan products on the market today. It has always been a significant solution in the Ecig industry and there are many different versions of this mod on the market. Be sure to check out some of the options including the e vic basic, evic vtwo, evic vt and more. The temperature controls and the options on these items make them each great for their individual purposes.
Joyetech eVic-VTC Mini VW Full Kit
Product Instructions
Parameters
Size: 22.20 x 38.20 x 82.00mm
Output mode: VT-Ti/VT-Ni/VW mode
Output wattage: 1-60W
Resistance range: 0.05 - 1.0ohm for VT mode
0.15 - 3.5ohm for VW/Bypass mode
Temperature range: 100 - 315℃ / 200 - 600F

Joyetech eVic-VTC Mini 75W TC Full Kit contains
1 x Joyetech eVic-VTC Mini MOD, without battery
1 x Joyetech eGo ONE mega atomizer - 4ml (0.2ohm Ni pre-installed)
1 x replacement 0.4ohm Ti atomizer head
1 x Micro USB cable
1 x AC Adapter
1 x User manual
Simple packing. Customary Packing from the factory, the packing is subject to change without notice.
Detailed Instructions
Features
1. 3 Modes:VT-Ni, VT-Ti, Traditional VW;
2. Support with Pure Nickel(Ni200, made in USA) and Pure Titanium wire, and 100% organic cotton;
3. Changeable Battery and Magnetic Cover
4. Save huge of battery and liquid consumption without a dry hit
5. Enhance flavor experience with the change of temperature settings by displaying in the big OLED screen;
6. 3 Attractive colors available:Black, White and Cyan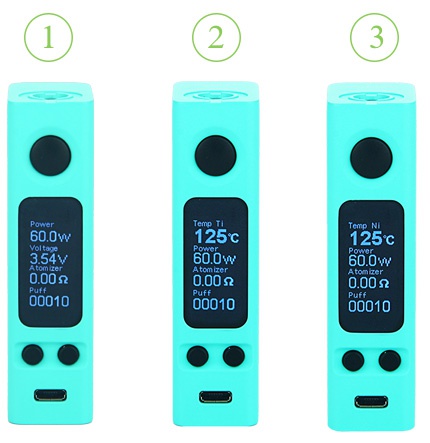 Operation Guide
Power on/off:
Press the fire button 5 times in quick succession to turn the device on/off.
Vaping: Hold the fire button and inhale through the mouthpiece. Release the Fire button and exhale.
Stealth Function: While the device is on, simultaneously hold the fire button and the left regulatory button. This will switch between Stealth on and Stealth off function. In Stealth on Mode, you can vape with the OLED screen off. To quick see your settings in stealth on mode, you can tap the fire button to display the settings.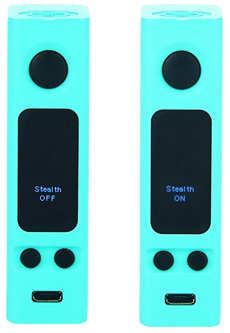 Adjustment Lock function:
While the device is on, simultaneously press the two regulatory buttons.This will switch between Adjustment Lock and Adjustment Unlock function.
In adjustment Lock mode, the regulatory button will not function to prevent accidental VT/VW/Bypass setting adjustments.
Shift Between VT/VW/Bypass Mode:
1. Press the fire button 3 times to enter the menu.
The OLED screen presents 4 rows of information:
(1) Temp Ni (VT-Ni), Temp Ti (VT-Ti), Power(VW) and Bypass
(2) In Temp Mode, this row displays output power (W).
In Power and Bypass modes, it will display output voltage (V).
(3) Atomizer Resistance. In VT Mode, this will also display the Resistance Lock.
(4) User information (battery indicator, total vapor puffs and vaping time)
2. After pressing the fire button 3 times, the first row will flash to indicate you enter into the menu. Press the right regulatory button to switch between VT-Ni, VT-Ti, VW and Bypass mode.
Press the fire button, or leave the display to flash 10 times on the current setting to confirm and exit the menu.
VT-Ni and VT-Ti mode:
In VT mode, coil temperature can be adjusted (from 100-315℃ or 200-600°F) by the regulatory button. A momentary turn of the regulatory button will increase the temperature by increments of 5℃ or 10°F. Long pressing the right or left regulatory button will rapidly increase or decrease the temperature setting.

VW Mode:
In VW mode output wattage can be adjusted from 1W-60W by pressing the regulatory button. Long pressing the right or left regulatory button will make the wattage setting rapidly increase or decrease.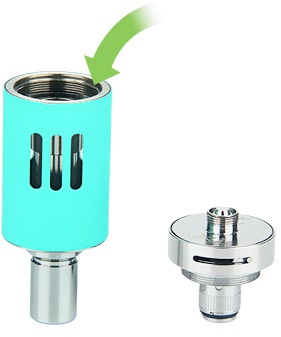 Bypass mode:
It is a direct output mode of voltage. In this mode, to make sure the device work properly, the resistance of atomizer head must be in the range of 0.1-3.5ohm.
Order Tips
It supports Titanium (Ti) and Nickel (Ni200) Wire, eGo ONE CLR Head, Delta 2 LVC Head & Delta 2 RBA Coil;
It doesn't come with battery.
It doesn't come with liquids, you shall buy separately.
Guarantee
3 months for battery. Pls check Guarantee Policy.
Note: We now need serial number to proceed after-sales service. Please kindly preserve the serial number of product if it's available.
Click download to get certificate: CE, ROHS.
Safety(+)efficiency