About Innokin Axiom Subohm Tank 3.5ml
Innokin is one of the main factories in the industry and certainly one of the top e-cig companies in China. They are always coming up with great designs and features, like the SVD MOD, VTR and VV MOD, not to mention the Cool Fire 1 and 2, as well as the iTaste model. All of these add up to bring in front rewarding results and benefits you will enjoy. There's also the iClear series cartomizer. You get all you need for the best vaping experience.
When you use the Axiom you will notice it has some triple adjustable AFC slots and a stellar 0.5 ohm organic cotton coil. They also have a great RBA coil that helps you build your own coils. This works great for the dual build and the single options too.
Innokin Axiom Subohm Tank - 3.5ml
Product Instructions
Parameters
Juice capacity: 3.5ml
Material: stainless steel, Pyrex glass
Thread: 510
Color: black, steel
Innokin Axiom Subohm Tank 3.5ml contains
1 x Innokin Axiom Tank (0.5ohm organic cotton coil pre-installed)
1 x RBA head
1 x extra glass

1 x vape band
1 x accessory pack ( o rings, screws)
1 x manual
Simple packing. Customary Packing from the factory, the packing is subject to change without notice.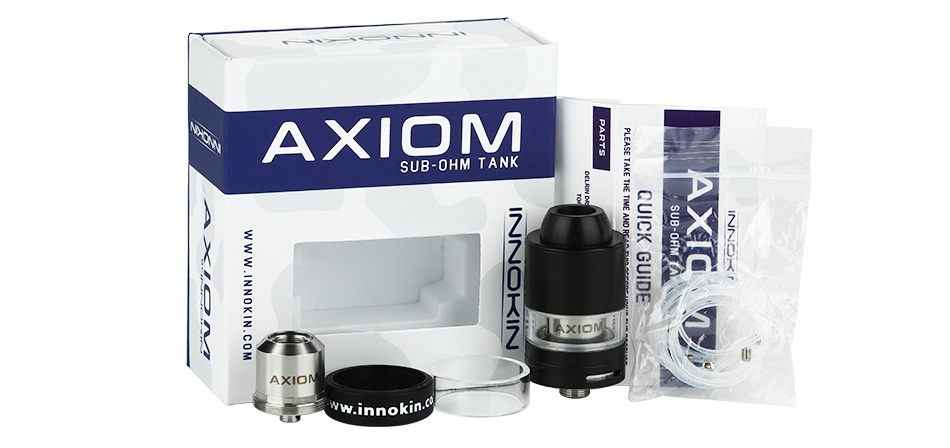 Features
Ultra compact tank
Integrated top-fill
3.5ml capacity
Triple adjustable AFC intake
Rebuildable coil head included
RBA single & dual coil option
Stainless Steel & Pyrex Glass material
Delrin drip tip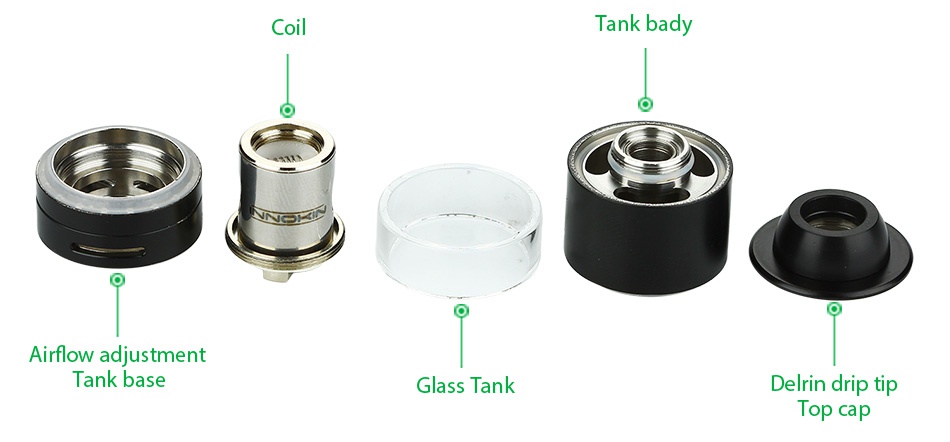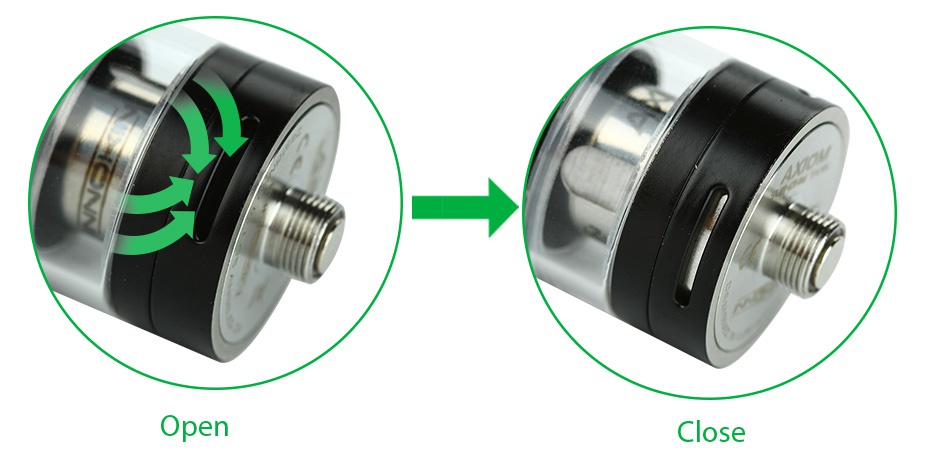 Operation Guide
E-juice filling
1. Carefully unscrew the top cap from the Tank.
2. Add e-Liquid into the reservoir. Do not overfill.
3. Twist the top cap on securely.
Priming coils (for new coils)
Add approximately 3 - 5 drops of e-juice directly onto the cotton; wait 1 minute before vaping.
Coil changing
1. Carefully unscrew the tank base from the tank body.
2. Hold and unscrew the coil from tank base.
3. Replace with new coil.
4. Prime new coil with e-juice when mounted.
5. Carefully screw the tank body and base.
6. Fill tank with juice and then enjoy!
For RBA coil
1. Unscrew the tank base from the tank body.
2. Carefully screw RBA coil onto tank base.
3. Unscrew RBA chimney from base of RBA.
4. Build on post holes. Please build responsibly. Enjoy! (If using single coil, use included single coil plug)

It doesn't come with liquids, you shall buy separately.
510 thread