About IJOY VPC UNIPOD Atomizer 2ml
iJOY is a company that is known for the great quality electronic cigarettes and e-cig gears that it produces. It is the first company to have introduced the Taste Control features into the market. The brand has created a great combination with the box MODs of 200W from Asolo along with the ACME tanks to create a long lasting and great experience in vaping.
The VPC UNIPOD from iJOY is a brand line which has the VPC POD, VPC Adapter and VPC Unipod versions associated with its series. This device has the tank capacity of 2ml and is compatible with most 510 box MODs and Diamond Bae box MODs owing to the presence of the 510 threads. The VPC UNIPOD has a ceramic coil which allows it to be the perfect choice while using nicotine salts. The tanks have a side-refilling design that makes them a unique vape to own.
Parameters
Size: 19 x 41mm
E-juice Capacity: 2ml
Resistance: 1.0ohm
Best Power: 10-15W
Thread: 510
Feature
Multifunctional pod-style atomizer with unique structure
Easy-to-operate pluggable design
Compatible with Juul & Phix cartridge by using UNIPOD Adapter
Unique ceramic coil for Nic Salt
Convenient side refill system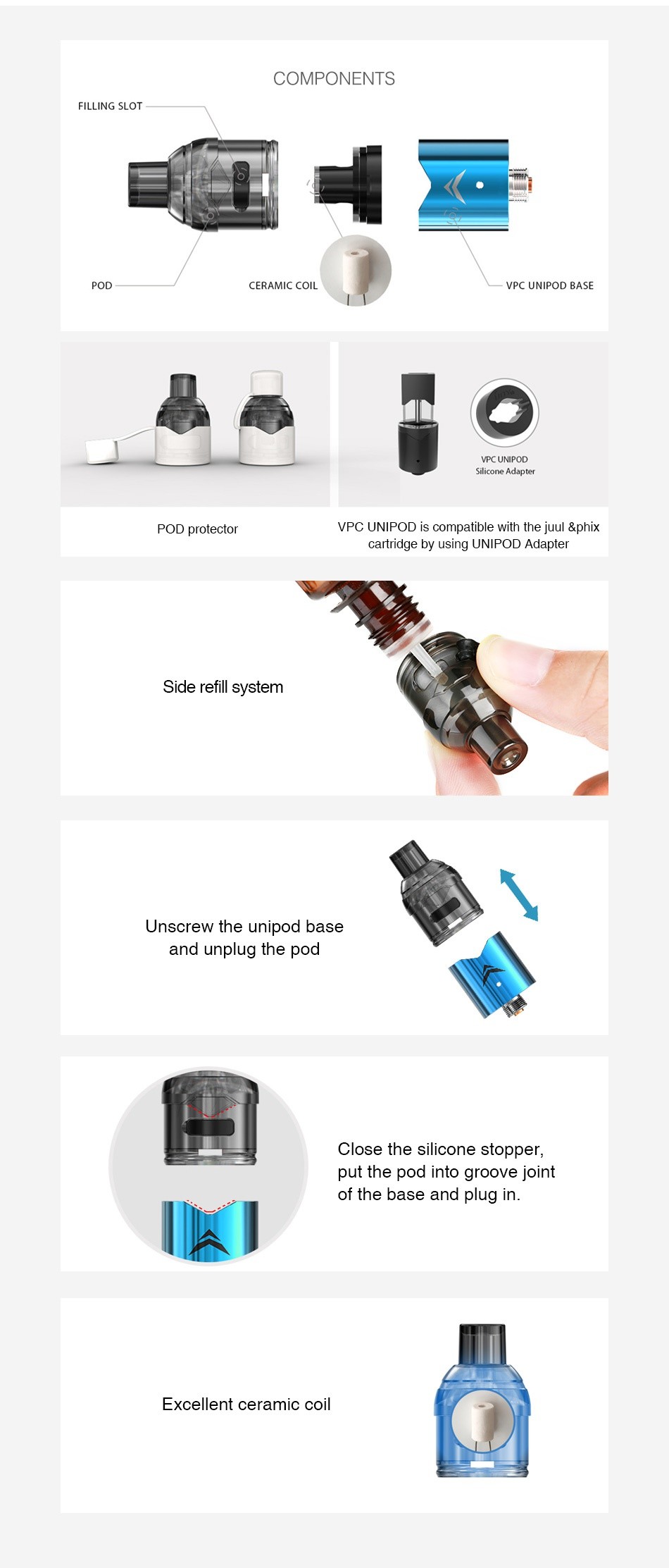 Packing
IJOY VPC UNIPOD Atomizer 2ml contains
1x Pod
1x VPC UNIPOD Base
1x POD Protector
1x VPC UNIPOD Silicone Adapter
1x Warranty Card
1x User Manual
Simple packing. Customary Packing from the factory, the packing is subject to change without notice.
Order Tips
Empty Pod. You can select the E-liquids here.
The IJOY Diamond VPC Starter Kit/ IJOY Diamond Bae MOD/ IJOY VPC POD 2ml 3pcs are also available in VapeNico.
The Standard Version only comes with English manual, while the TPD Version features 12 languages manual and TPD warnings on the package. Thanks for your attention.