About IJOY Reaper Plus Tank Kit 3.8ml
iJOY is a company that is known for the great quality electronic cigarettes and e-cig gears that it produces. It is the first company to have introduced the Taste Control features into the market. The brand has created a great combination with the box MODs of 200W from Asolo along with the ACME tanks to create a long lasting and great experience in vaping.
Reaper - an absolute gem of a product from the reputed Reaper brand brings you the best vaping experience. It has the latest cooling system, improved airflow, better dual coil design as well as top fill design that will give the users a better vape experience. The Reaper plus comes with the RBA coil and pre-made coil, making it the upgraded version of its predecessor. With a vaping experience unlike any other, this is a product that you absolutely have to go for.
IJOY Reaper Plus Tank Kit - 3.8ml
Product Instructions
Parameters
Size: 22 x 66mm(diameter/height)
Wattage range: 0.3ohm(35W - 80W); 0.4ohm(35W - 100W)
E-liquid Capacity: 3.8ml
IJOY Reaper Plus Tank Kit 3.8ml contains
1 x IJoy Reaper Plus Tank
1 x 0.4ohm coil head(pre-installed)
1 x 0.3ohm coil head(SS 316L)
1 x RBA coil head
1 x extra glass tube
1 x Organic cotton
1 x Screwdriver

2 x Screws
2 x replacement wire
2 x replacement seal ring for glass tube
1 x Warranty card
Simple packing. Customary packing from the factory, the packing is subject to change without notice.
Detailed Instructions
Features
Top cooling airflow and airflow adjustable system
Top side filling
Variable coil heads available
100% Pure Organic cotton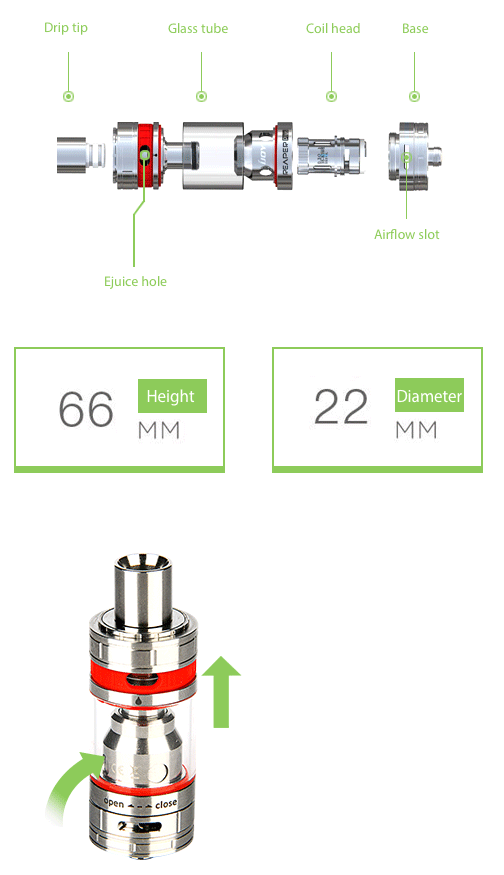 Operation Guide
E-liquid Filling
Close off the hole before refill; lifting up the top cap; simply squirt your favorite juice into the hole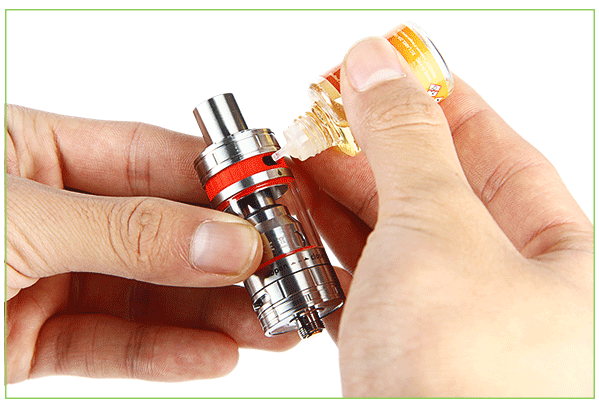 Change Coils
Screw the base from the tank. Then remove the old coil from the base and screw back a new one.
Airflow Control
Rotate the top/bottom ring clockwise or counter-clockwise to adjust airflow.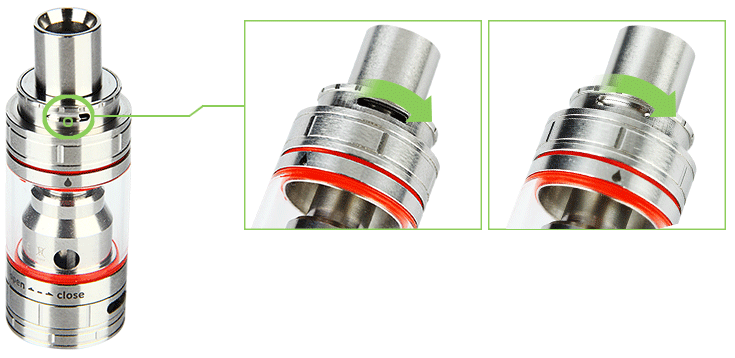 Order Tips
510 Threaded.
You can buy replacement coils and clapton coils separately.
You can select the vape juice here.