About IJOY MAXO V12 Subohm Standard Kit 5.6ml
iJOY is a company that is known for the great quality electronic cigarettes and e-cig gears that it produces. It is the first company to have introduced the Taste Control features into the market. The brand has created a great combination with the box MODs of 200W from Asolo along with the ACME tanks to create a long lasting and great experience in vaping.
MAXO by IJOY is an amazing tank series and high wattage box that includes MAXO Zenith VV BOX Mod, 315W MAXO Quad 18650 TC Box Mod, and MAXO V12 Subohm tank. With 315 MAXO Quad being the first Quad 18650 box mod, it will provide a longer duration in vaping. It comes powered by 4 x 18650 batteries allowing the MAXO Mod to reach a max output of 315W.
IJOY MAXO V12 Subohm Standard Kit - 5.6ml
Product Instructions
Parameters
Capacity: 5.6ml
Size: 28 x 61.9mm
Material: Stainless Steel
Thread: 510

IJOY MAXO V12 Subohm Standard Kit 5.6ml contains
1 x MAXO V12 TANK
1 x V12-C12 Coil 0.1ohm (60-315W)
1 x XL-C3 Coil 0.2ohm (50-180W, with coil adapter)
1 x Replacement Glass
1 x 510 Drip Tip Adapter
1 x Vape band
1 x Screwdriver
1 x warranty card
Simple packing. Customary packing from the factory, the packing is subject to change without notice.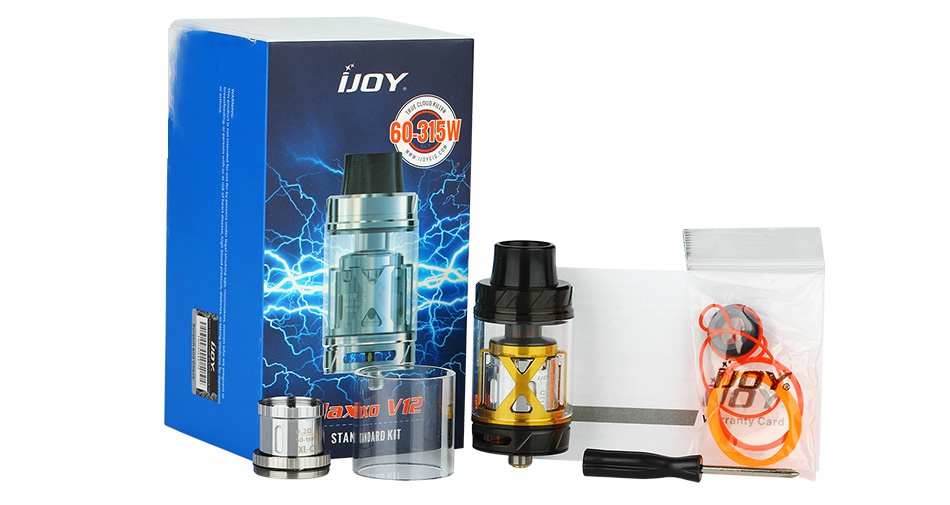 You can select the vape juice here.
It doesn't come with RTA deck. You can buy V12-C12 coil, XL-C3 coil and XL-C4 coil.
You can select replacement glass tube in VapeNico.
Features
28mm diameter
61.9mm height
5.6 ML capacity
Top flip fill system
Unique V12 twelve fold Coil atomizer head system
Delrin wide bore drip tip
Adjustable airflow control
Stainless Steel and Glass Construction
Gold Plated 510 Connection
Designed for Immense Vapor Production