About Heatvape Ecotank Replacement Coil 5pcs
Determined to add something fresh and new to the vape industry, Heatvape has emerged. This brand creates a large variety of products, each one designed with the same premium materials and with the highest quality production standards to ensure that every product created is something that will be well loved. Heatvape creates mods, RBAs and more to satisfy the needs of every vape enthusiast. Find all of your favorite Heatvape products right here at a price you'll be pleased with.
Subohm Heatvape Ecotank Coil/Core
Product introduction
Parameters
Available resistance: 0.5ohm (NI-CR alloy) & 0.2ohm (Ni-200)
Heatvape Ecotank Replacement Coil 5pcs contains
1 x 5pcs Subohm Heatvape Ecotank Coil/Core
Simple packing. Customary Packing from the factory, the packing is subject to change without notice.
Detailed Instructions
Features
1. 0.5ohm sub ohm
2. Temperature Controllable Ni-200 coil (only 0.2ohm)
3. 100% Organic Coil
4. No burnt taste
5. Huge Vapor Production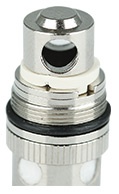 Operation Guide
How to replace the coil unit/coil head
Turn upside down the cartomizer, then screw off the connector. Take out the old coil unit from the bottom base, replace with new one. So easy!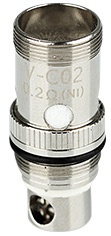 Order Tips
Only suitable for Heatvape suhohm Ecotank.