About Folomov A4 Smart Quick Charger with LCD Screen
Folomov is a company that has been established in the year 2009. It is a company which takes into account the use of hi-tech technologies and innovation and therefore has been able to build a formidable R&D and manufacturing department for itself. The company is also known for selling outdoor products for sports lighting which include the likes of batteries, high-end headlamps, flashlights, EDC tools and chargers. Folomov has made a prominent mark in the worldwide market and has created efficient channels of distributorship and selling of their products owing to these connections.
The A4 from the brand Folomov is the example of a battery charger which has smart and innovative features. This charger is compatible with rechargeable batteries of almost all different types. The charger comes with convenient operation mechanism, LCD display of the digital kind and other protections which makes it completely safe to use.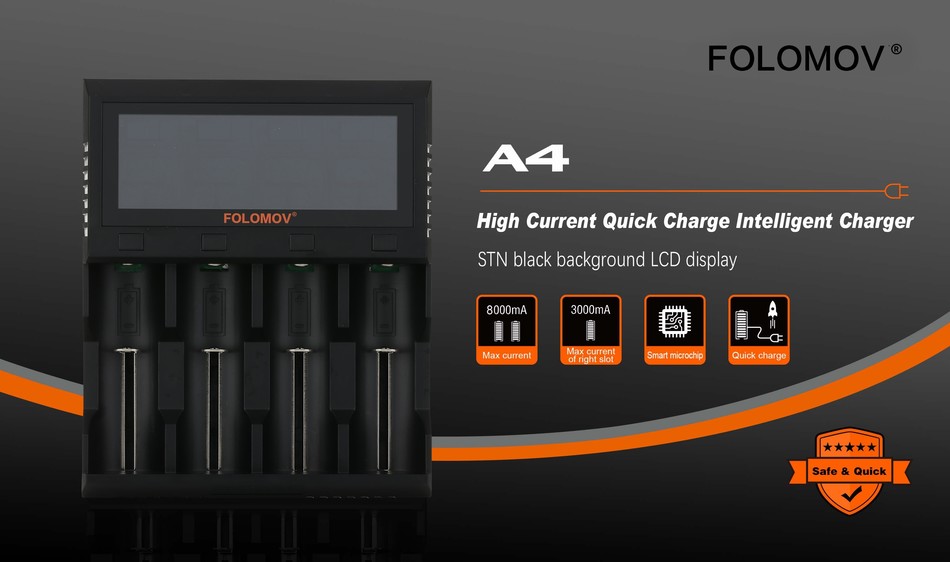 Specification
Parameters
Dimensions: 151 x 128.5 x 38mm
Input: DC 12V 5A
Output: 1.48V±1%/ 3.7V±1%/ 4.2V±1%
CH1: 250mAh 500mAh 1000mAh 2000mAh 3000mAh
CH2: 250mAh 500mAh 1000mAh 2000mAh
CH3: 250mAh 500mAh 1000mAh 2000mAh
CH4: 250mAh 500mAh 1000mAh 2000mAh 3000mAh
Compatible with:
Li-ion/LiFeP04: 26650, 25500, 22650, 21700, 20700, 18700, 18650, 18500, 18490, 18350, 17670, 17500, 17335, 16340(RCR123), 14650, 14500,10440
Ni-MH/Ni-Cd: AA, AAA, AAAA, SC, C, D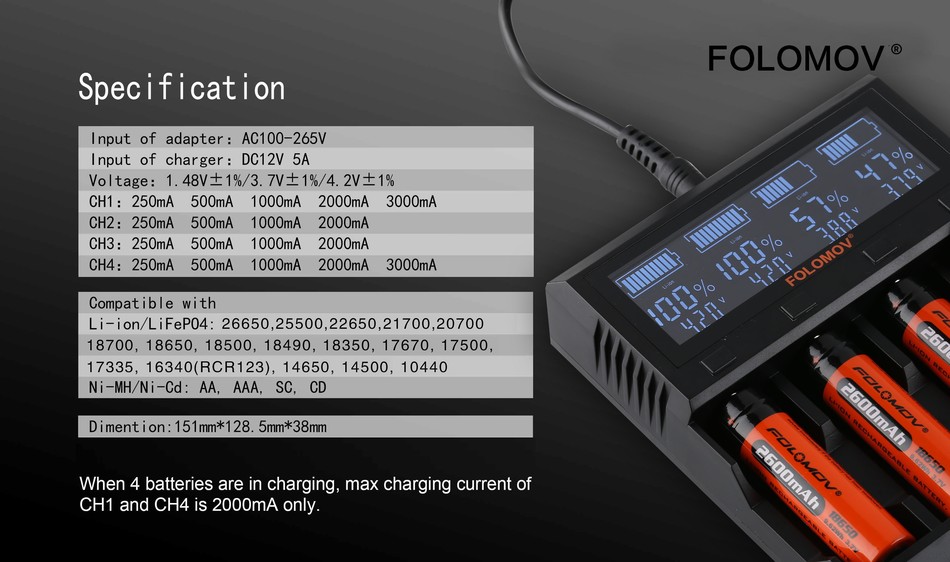 Feature
High current quick and intelligent charger
STN black background digital LCD display
Simple and convenient operation
Overcharging protection
Reverse polarity prevention and short circuit prevention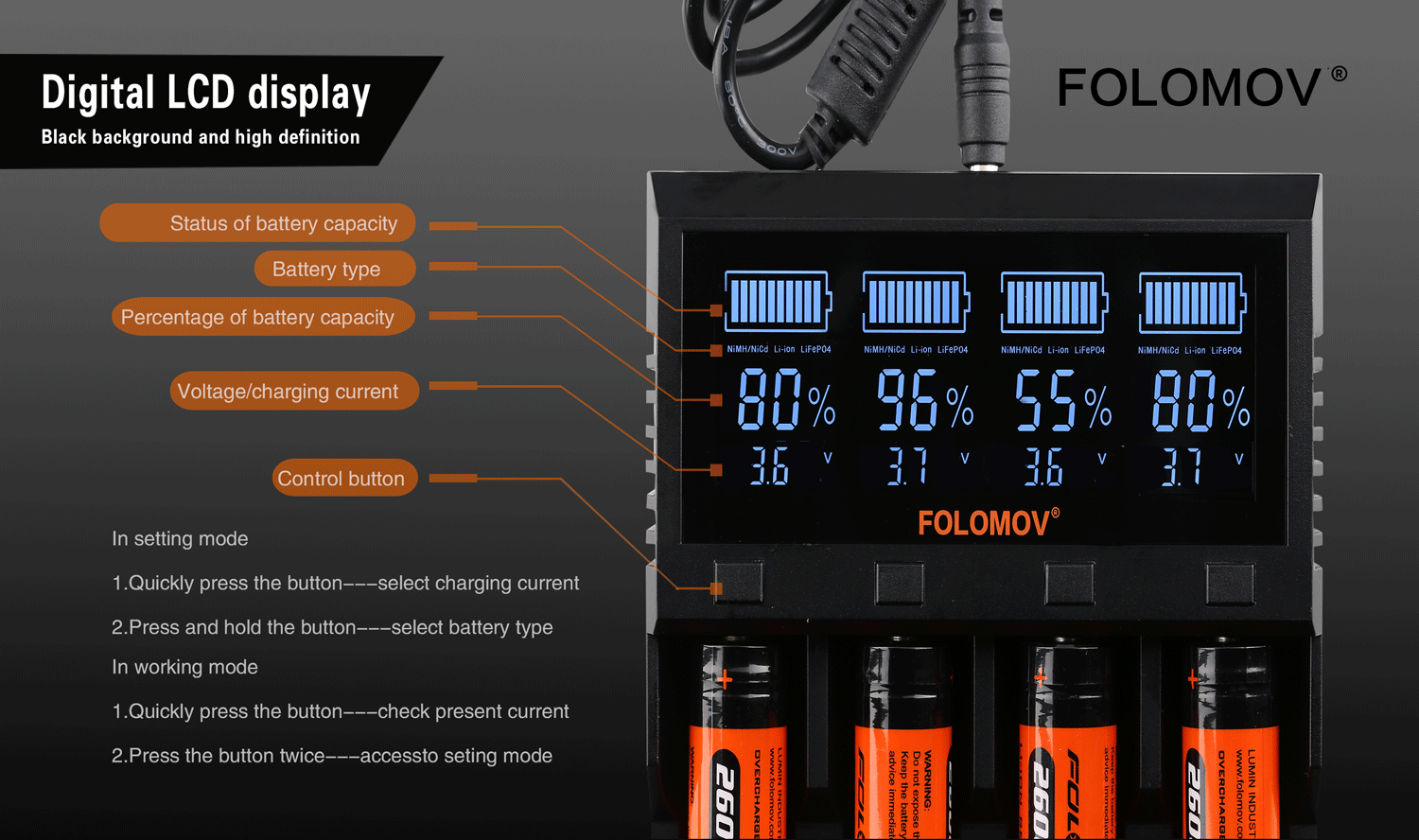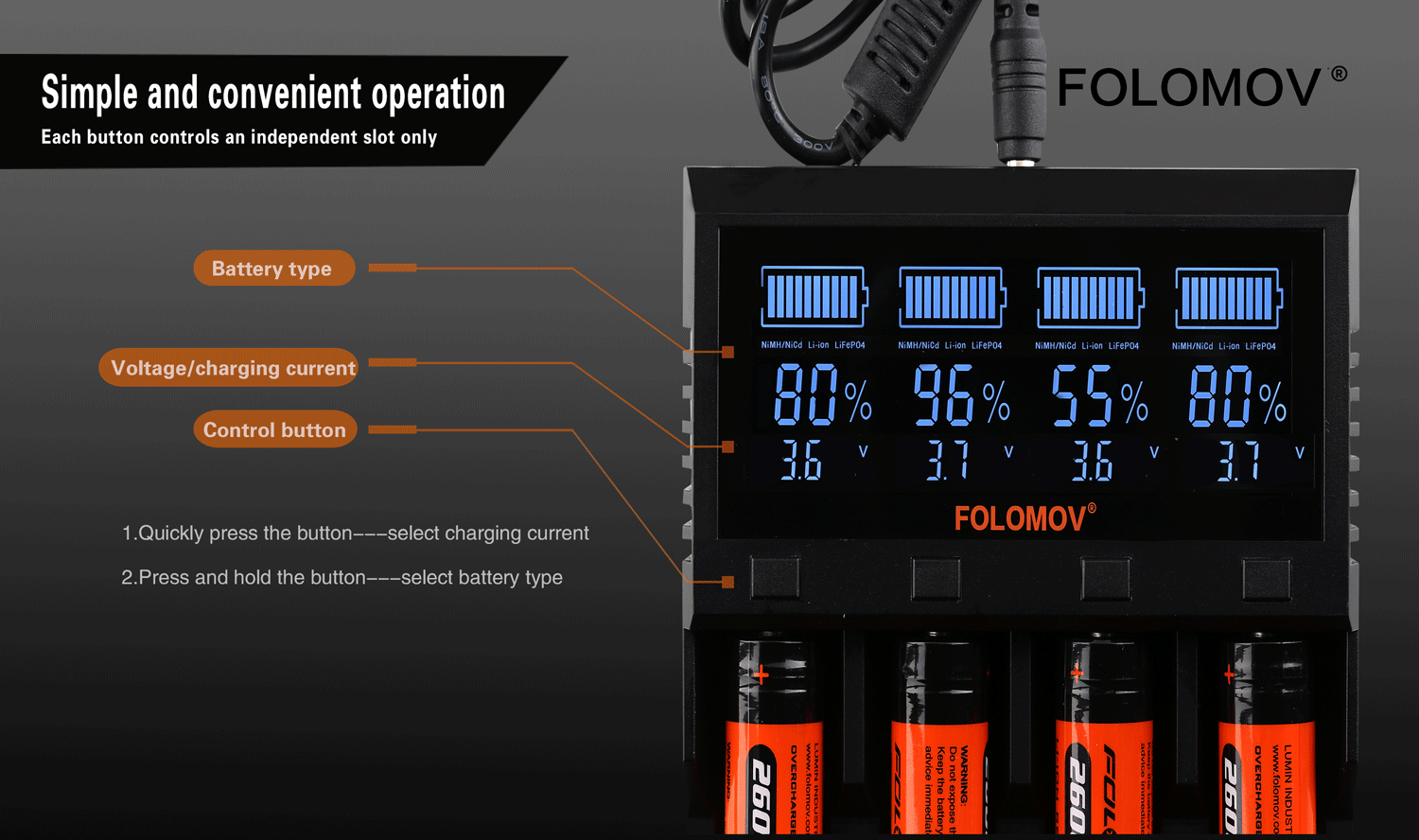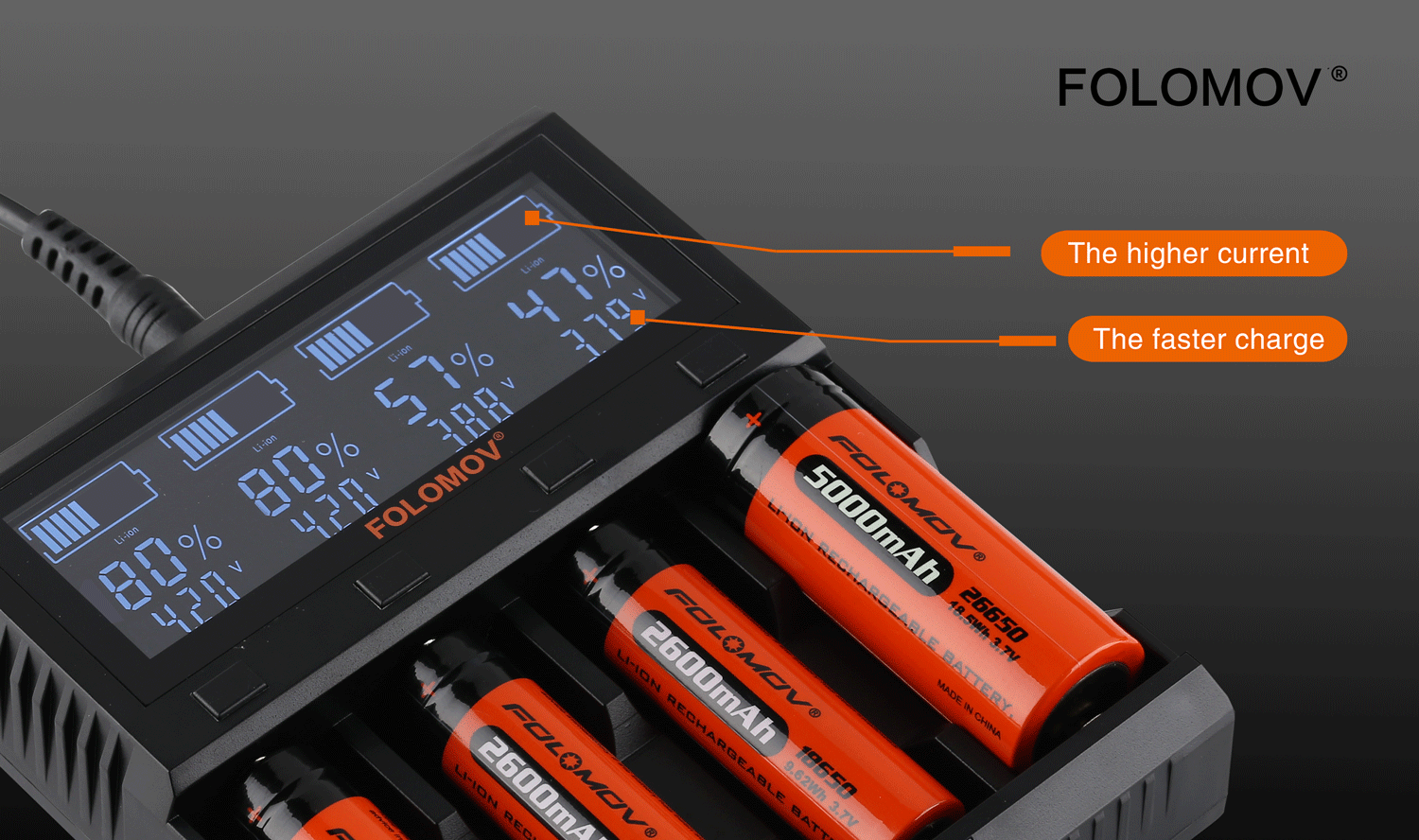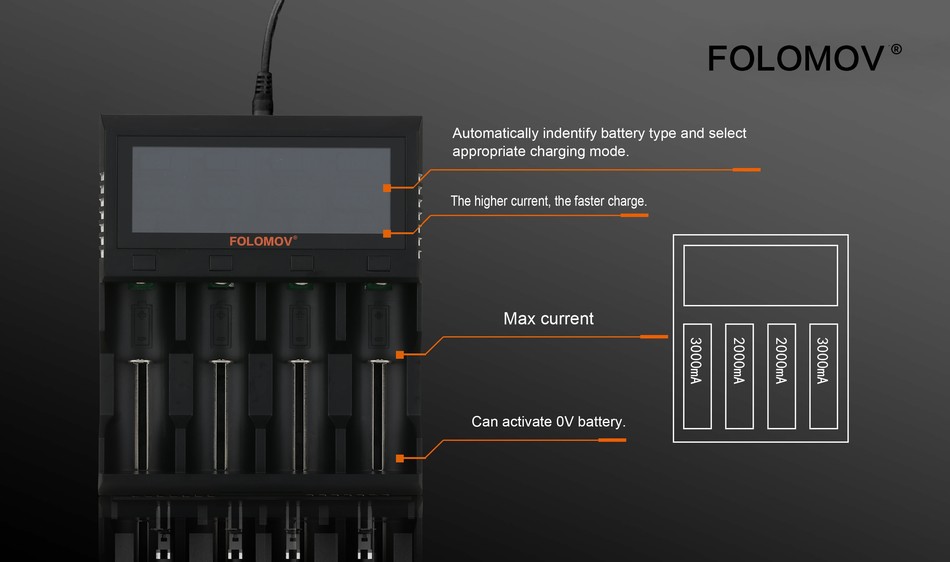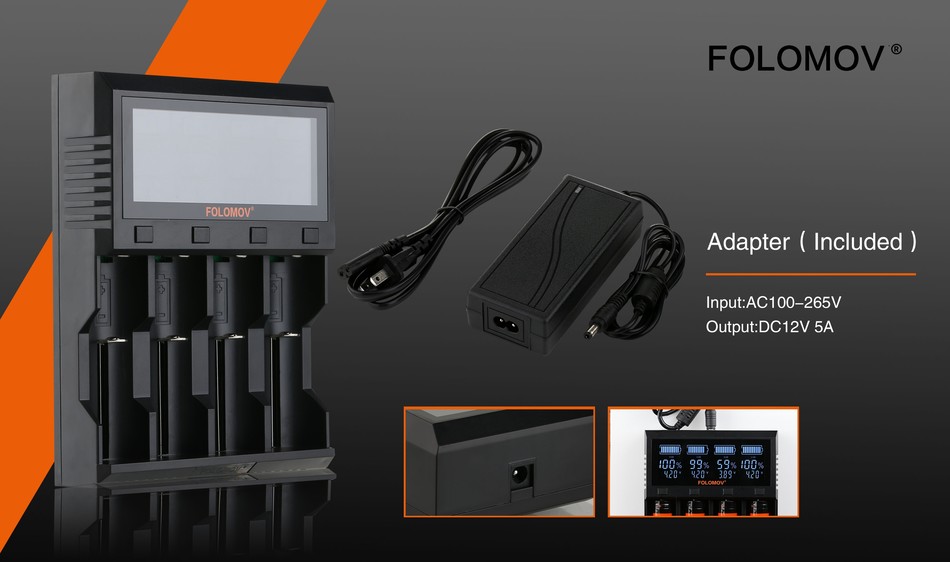 Packing
Folomov A4 Smart Quick Charger with LCD Screen contains
1x Folomov A4 Smart Quick Charger with LCD Screen
Simple packing. Customary Packing from the factory, the packing is subject to change without notice.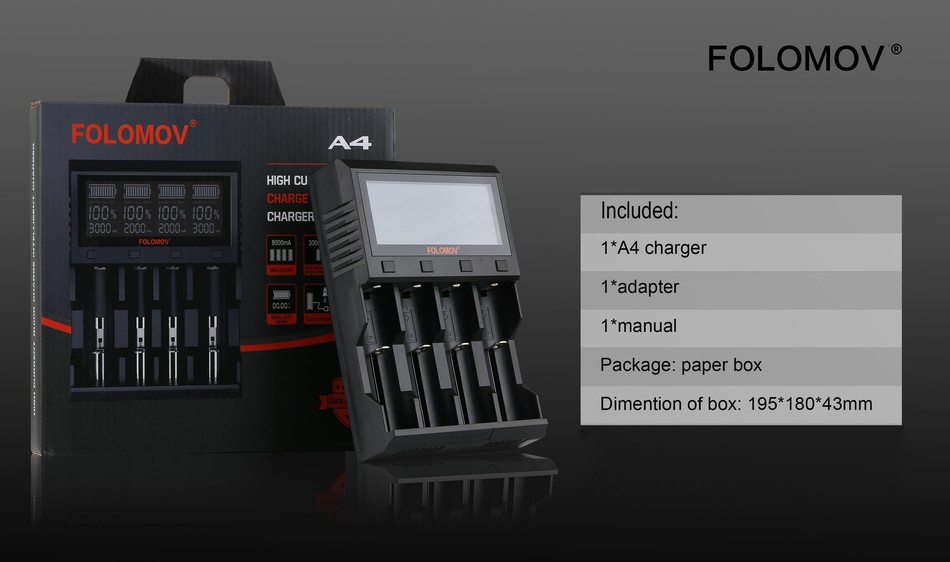 Order Tips
Attention: A4 can only charge Ni-MH/Ni-Cd and Li-ion/LiFeP04 rechargeable batteries. Never use A4 to charge other batteries. They may cause the explosion, leakage or broken and then result personal injury and property damage.
The various Li-on Batteries also can get in VapeNico.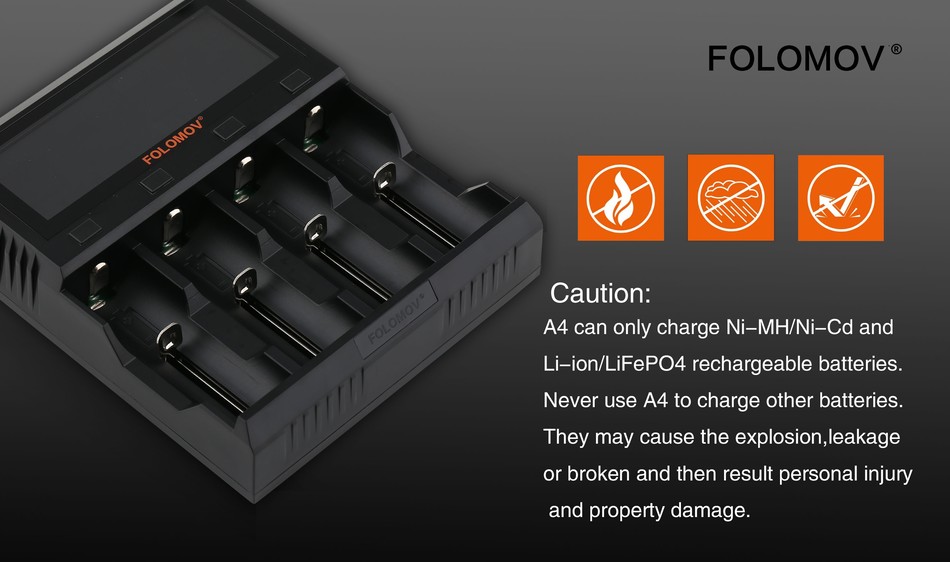 Guarantee
Guarantee period 3 months. Please check Guarantee Policy.