About Eleaf MELO 300 Atomizer 6.5ml/3.5ml
Eleaf is one of the most recent e-ciggereate company offering quality products along with state of the art customer support. The company has regular customers who prefer its products. Some of the products that we offer include eleaf mini iJust battery, rebuildable atomizer, elaf iJust mod, iSmoka iGo Mod and several other products. You can visit our online shop and buy ismoka electronic cigerrate to get the best e-smoking experience.
The Melo series comprises of big atomizers by ELeaf. The Melo2, Mel0 RT22, Melo 3 and Melo 3 mini are some of the atomizers included in this series. In case of the Melo 3, there is an adjustable airflow at the bottom apart from a structure that is detachable. The head comprises of six coils and produces output between 100 and 300 watts. The ELeafMelo is easy to refill as it has a retractable top. It shares an ideal combination with the ASTER RT MOD. You can choose one of the Melo atomizers according to the needs that you have.
Eleaf MELO 300 Atomizer
Product introduction
Parameters
Diameter: 26mm
Height: 60mm (without 510 thread)
E-liquid capacity: 6.5ml/ 3.5ml
Thread type: 510 thread
Color: black, silver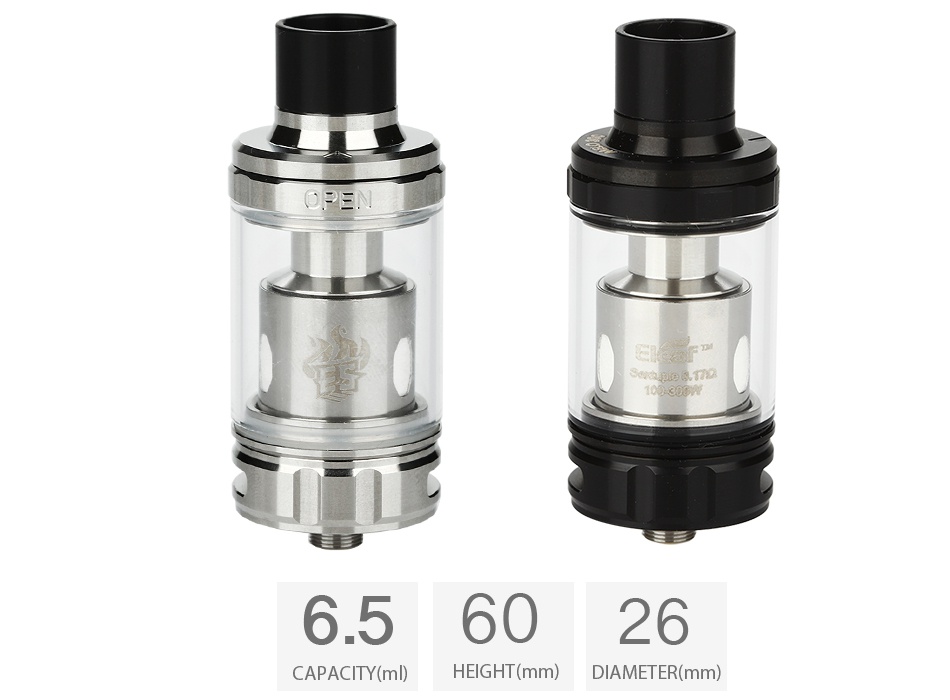 Eleaf MELO 300 Atomizer 6.5ml/3.5ml contains
1x MELO 300 (pre-installed ES Sextuple-0.17ohm Head)
1x ES Sextuple-0.17ohm Head
1x User Manual
Spare parts
Simple packing. Customary Packing from the factory, the packing is subject to change without notice.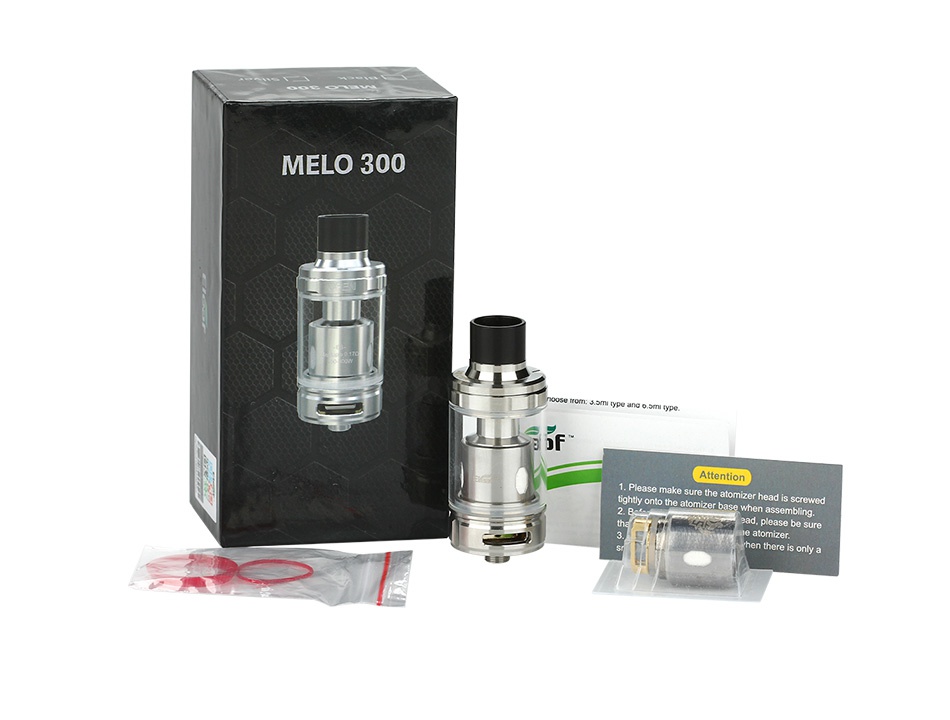 You still need order e-juice e-liquids to use it.
You can buy replacement ES Sextuple-0.17ohm Head.
Features
New ES Sextuple-0.17ohm Head for Ultra High Power
Convenient Retractable Top Fill System
Optimal Airflow for Massive Vapor Clouds
Detachable Structure for Easy Cleaning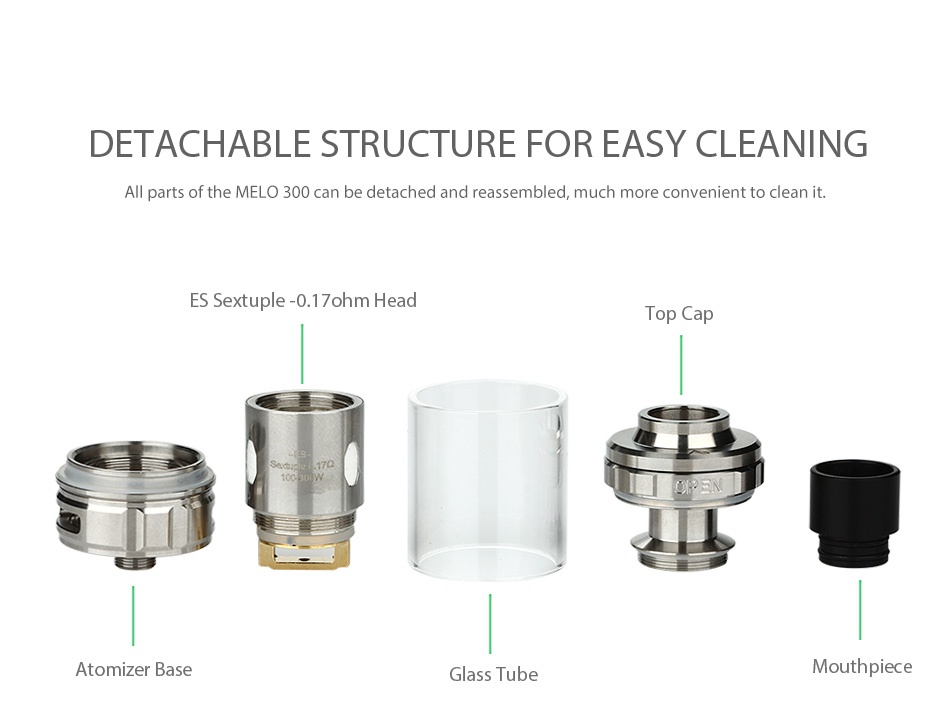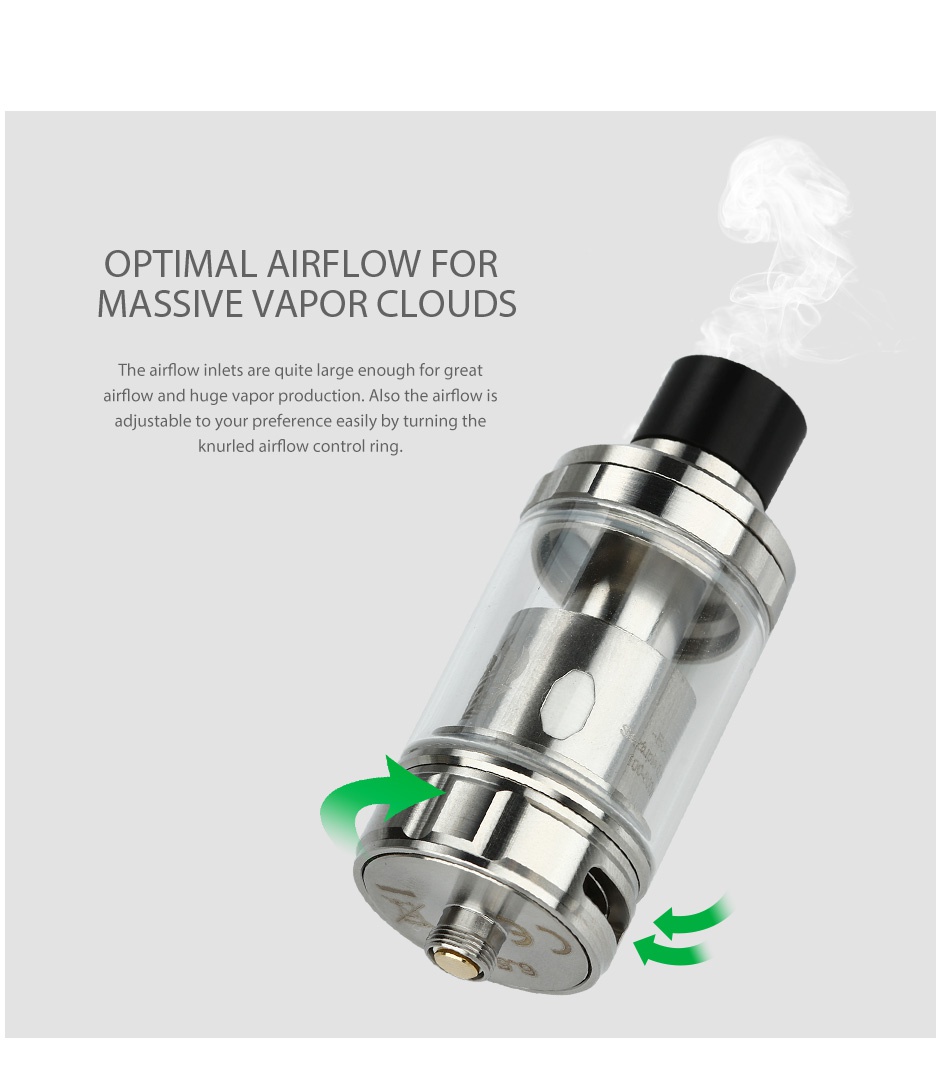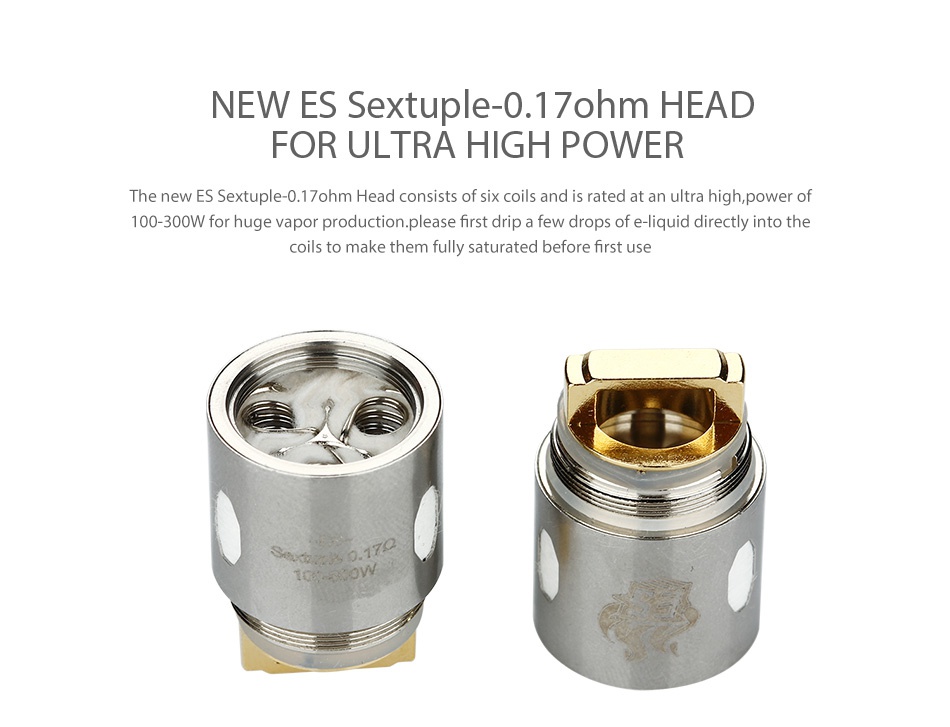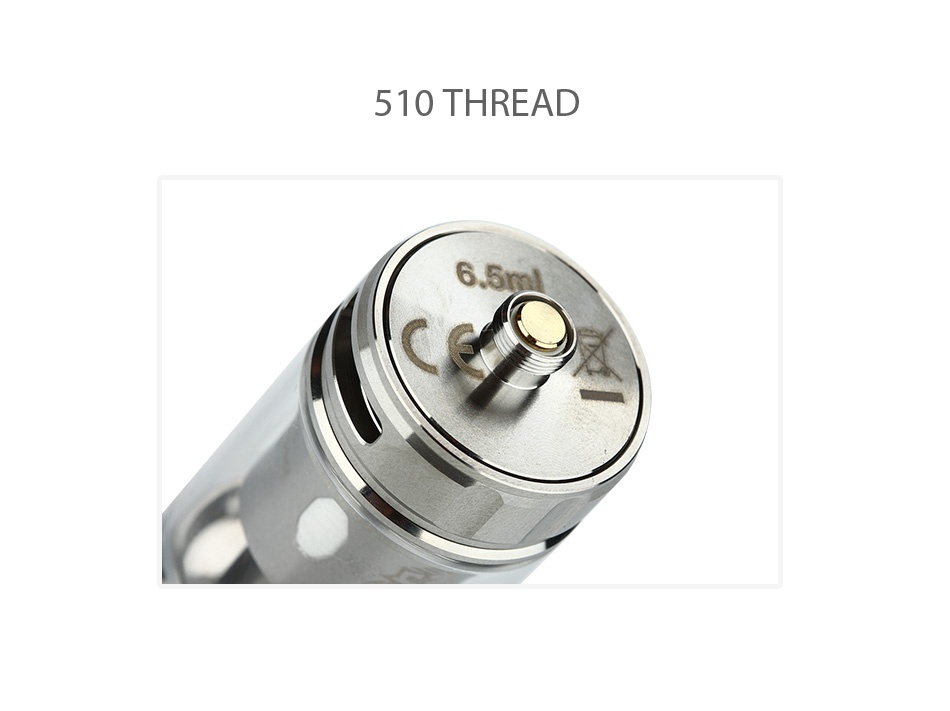 How to use:
1. Drip a few drops of e-liquid directly into the coils to make them fully saturated before first use;
2. Screw the primed atomizer head onto the atomizer base tightly;
3. Put the glass tube on, and screw the top cap with mouthpiece on;
4. Slide the mouthpiece back to reveal the fill port, slowly fill e-liquid into the tank through the port, and then close the retractable top after filling;
5. The airflow can be adjusted by rotating the airflow control ring on the atomizer base;
6. Finally the Melo 300 is ready to use.