About Eleaf iJust 2 Mini Subohm Atomizer 2ml
Eleaf is one of the most recent e-ciggereate company offering quality products along with state of the art customer support. The company has regular customers who prefer its products. Some of the products that we offer include eleaf mini iJust battery, rebuildable atomizer, elaf iJust mod, iSmoka iGo Mod and several other products. You can visit our online shop and buy ismoka electronic cigerrate to get the best e-smoking experience.
The iJust kit by ELeaf comprises of a battery with power of 3000mAh and an atomizer with capacity of 4ml. The iJust one has an integrated battery and a tank with capacity of 2ml. The iJust X comes with an internal tank and a new body design. It has a battery of 3000mAH. The iJust Start Plus comes with a direct output voltage facility, adjustable air flow and a side USB port for charging purposes. The iJustNex Gen is a combination of a 3000mAh battery and a tank with capacity of 2ml. This is a compact but very impressive unit.
Eleaf iJust 2 Mini Subohm Atomizer - 2ml
Product introduction
Parameters
Length: 57.5mm
Diameter: 22mm
Capacity: 2ml
Resistance: 0.3ohm
Wattage: 30W - 80W
Color: Silver
Material: SS
Thread Type: 510 Thread
iJust 2 mini Tank comes with
1 x iJust 2 Mini Mouthpiece
1 x iJust 2 Mini Atomizer Tube
1 x EC Head (0.3ohm)
1 x iJust 2 Mini Atomizer Standard Base
1 x Airflow Control Ring
1 x User Manual
Simple packing. Customary Packing from the factory, the packing is subject to change without notice.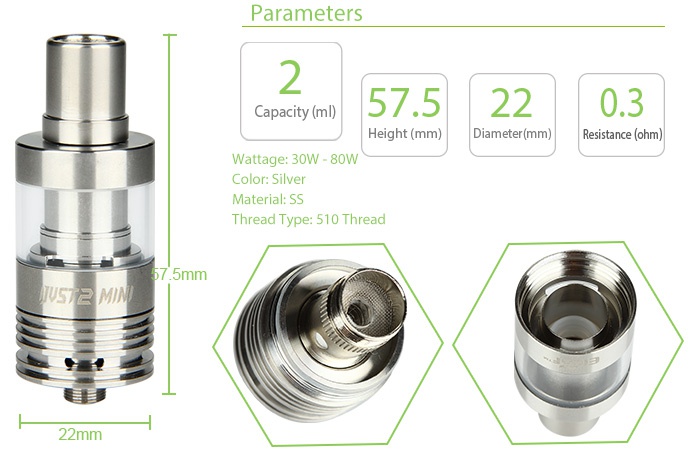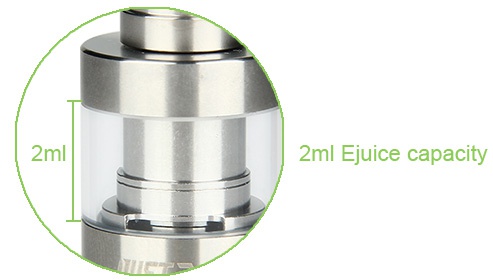 Detailed Instructions
Features
1.EC head is adopted in iJust 2 mini atomizer, which is consisted of twoheating coils vertically placed in parallel. It enables a large amountof cloud production.
2. The large capacity of atomizer tube reaches 2ml, which is more convenient and user-friendly.
3. The special structure design for the iJust 2 mini atomizer standard base improves the heat dissipation capacity to a large extend.
4. Theamount of airflow can be adjusted by rotating the airflow control ringon iJust 2 mini atomizer standard base so as to get different vapingexperiences.
Operation Guide
How to fill e-juice: First unscrew iJust 2 mini atomizer base off the atomizer. Then slowly refill e-liquid into the hole along the tube. At last, screw iJust 2 atomizer base onto the atomizer.
Atomizer core replacement: Firstly, screw the base part off the atomizer; then screw the atomizer core of the base part and replace with a new one.
Note: please put the atomizer on the table for a few seconds to let the organic cotton completely soaked.

Order Tips
There is CE mark on the bottom base.
It doesn't come with liquid, you shall buy separately.
You can buy replacement coils: 0.3ohm and 0.5ohm EC Heads, EC Ni Head, EC Ti Head, ECR Head.

510 Threaded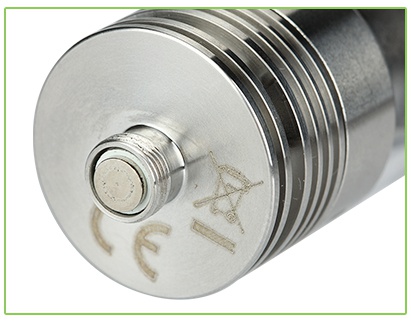 Fiqure Photos