About Eleaf GS16S BDC Single Atomizer 1ml
Eleaf is one of the most recent e-ciggereate company offering quality products along with state of the art customer support. The company has regular customers who prefer its products. Some of the products that we offer include eleaf mini iJust battery, rebuildable atomizer, elaf iJust mod, iSmoka iGo Mod and several other products. You can visit our online shop and buy ismoka electronic cigerrate to get the best e-smoking experience.
The GS Series by ELeaf comprises of the GS16S BDC Atomizer, GS Air 2 atomizer, GS Air-M atomizer, GS-Tank. The GS Air series works well with the iStick battery as well as a dual coil atomizer head. In terms of engineering, the GS-Tank atomizer is a recent venture and comes with a tank capacity of 3ml. It easily produces an output of 30 to 40 watts. It works well with the iStick TC MOD. The GS Air series along with the GS Air TC head works with multiple temperature control batteries.
GS16S BDC Atomizer - 1.0ml
Product Instructions
Parameters
Capacity: 1ml
Resistance: Bottom Dual coil 1.8ohm
Material: Stainless Steel
thread: 510 thread with eGo skirt
Length x Diameter: 61 x 16mm
Suitable voltage: 3.3V - 5V
Eleaf GS16S BDC Single Atomizer 1ml contains
Simple packing. Customary packing from the factory, the packing is subject to change without notice.
Detailed Instructions
Features
1. Durable
2. Pure taste
3. BDC atomizer head
4. Pyrex Glass tube
Operation Guide
How to add liquid
1. Screw the base off connector.
2. Slowly refill the liquid into the two small holes along the tube. Pay attention that don't add liquid into the the air pipe.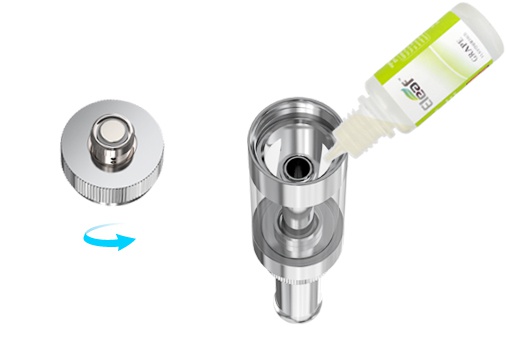 How to replace BDC atomizer head
1. Screw the base off connector firstly.
2. Pull out the BDC atomizer head from the base and replace a new one.

Order Tips
With CE & ROHS certificate on the package box.
Eleaf GS16S BDC Single Atomizer 1ml contains two types: eGo or 510 thread
The replacement atomizer head is here.
You can select the vape juice here.