About Ehpro Bachelor Nano RTA Tank 2ml Black
Ehpro is a popular vape company that has earned a name for itself due to its consistent demonstrated ability to create top-quality vapes that withstand the test of time. This company strives to create as various a selection of products as they can, and each one has its own merits. Here, you will find a huge selection of Ehpro vapes to choose from, no matter what your tastes are, and each one is offered at a cost-effective price.
Sleek, stylish and easy to use, the Ehpro Bachelor RTA Tank is a welcomed addition to any mod. This tank features a stainless steel frame made even more durable by the strong glass tank. It can hold up to two milliliters of ejuice at a time and has a top fill design that helps you refill the tank with greater ease than ever before. There are two large air holes on the bottom to let you adjust the way the Bachelor hits every time.
Ehpro Bachelor Nano RTA Tank - 2ml, Black
Product Instructions
Parameters
Size: 23(D)x 62.5(L)mm
Capacity: 2ml
Airflow control: 2x big air slots, Bottom airflow
e-juice Filling: Top filling with anti-leakage design on the bottom
Positive pin: copper
Material: Pyrex +SS
Thread: 510 thread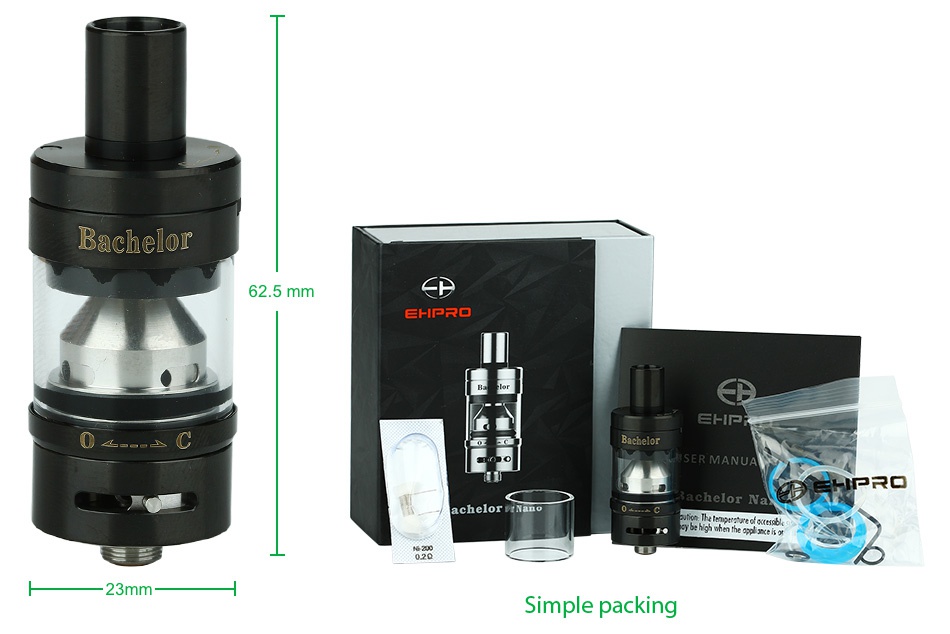 Bachelor Nano RTA comes with

1 x Bachelor Nano Tank by EHPRO
1 x Extra Pyrex Glass Tank
1 x 0.5ohm ROC Single Coil (Pre-installed)
1 x 0.2ohm Ni200 ROC Single Coil
1 x Bag Of O-Rings, Screws, Allen Key
Simple packing. Customary Packing from the factory, the packing is subject to change without notice.
Features
2ml Tank Capacity
Top Fill Design
Juice flow Control System
Post-less Build Deck and PEEK Insulator
Support Direct to lung and Mouth to lung
Dual Adjustable Airflow Slots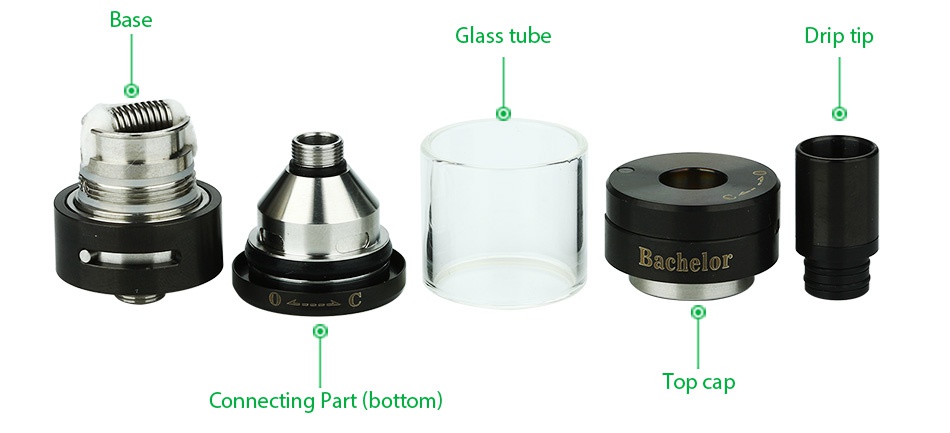 Operation Guide
Install wire coil:Unscrew the screw with allen key; install the coil into the base andcotton on each side should be inserted into the deck slot; Tighten thescrew with the allen key.

e-Juice refilling:Screw the glass anticlockwise to close the e-juice hole; unscrew the topcap anticlockwise; fill from the top cap; screw the glass clockwise toopen e-juice hole.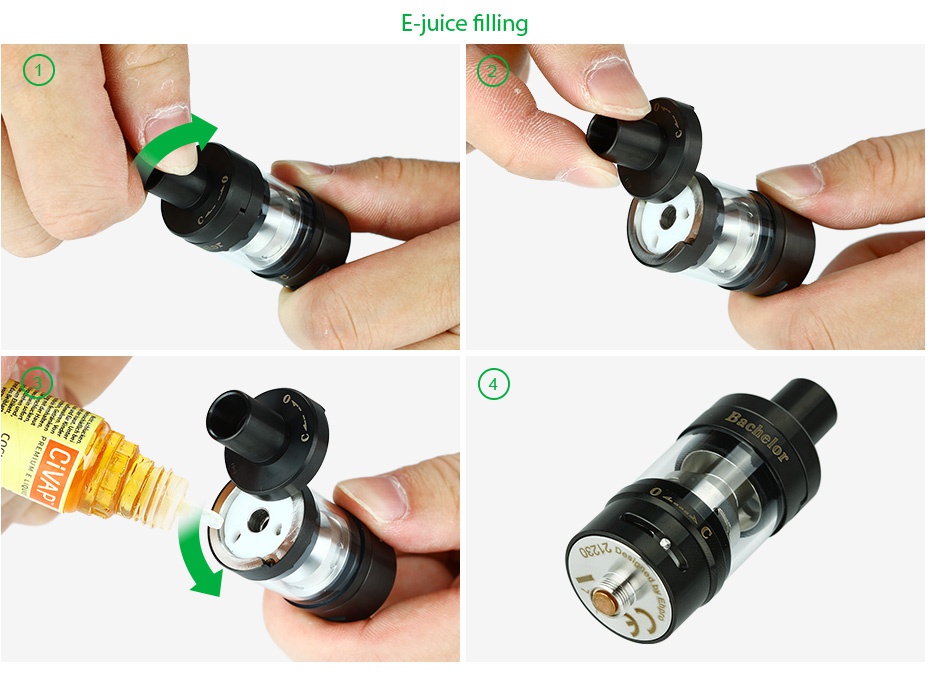 Airflow control: Rotate clockwise to increase airflow; rotate anticlockwise to decrease airflow.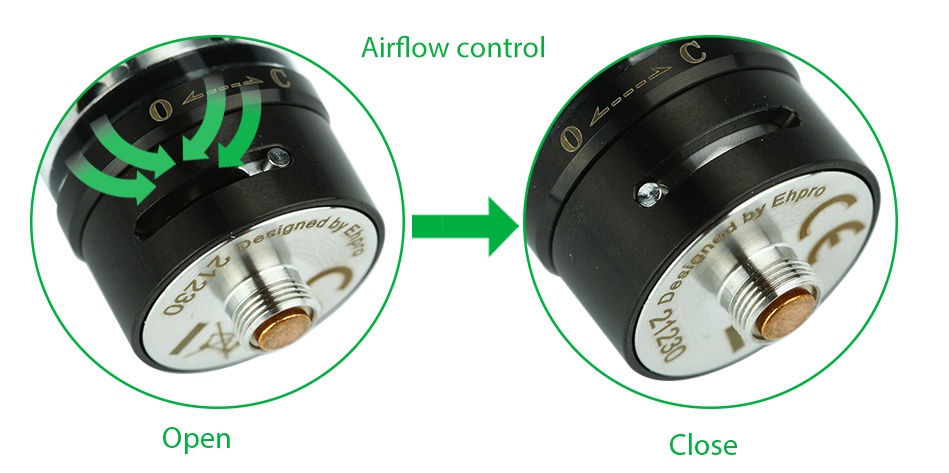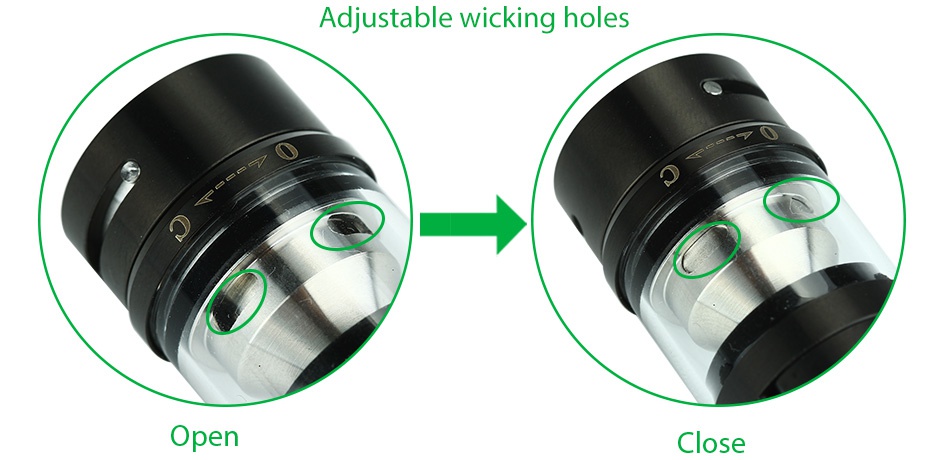 Rebuildablesare for experts, not average or beginner vapers with no knowledge ofhow to rebuild atomizers.These materials cannot safely be used by theinexperienced or those without basic knowledge of electronics.
510 thread. Compatible with most 510 threaded batteries.
You can buy E-juice here.
You can buy replacement ROC coils.