About CARRYS T4-R Baby Resin Tank 2ml
Carrys delivers impressive temperature adjustable atomizers and it also has a great OCC atomizer feature. You can easily control the temperature directly and that will come in handy very well.
These have a powerful gum appearance atomizer for unadulterated flavor. They embraces helpful best filling plan and movable base wind current for gigantic vapor. The T4-R tank accompanies one of a kind U1 0.6ohm and U2 1.5ohm curl heads, while T8-R accompanies 0.15ohm V8 loop and 0.2ohm V1 loop. With their help you get to keep an extraordinary flavor and the value will indeed shine, all thanks to some great features and impressive quality display.
CARRYS T4-R Baby Resin Tank - 2ml
Product introduction
Parameters
Capacity: 2ml
Size: 25mm x 43.5mm
Thread: 510 thread
Material: 304 Stainless Steel + Pyrex glass + Resin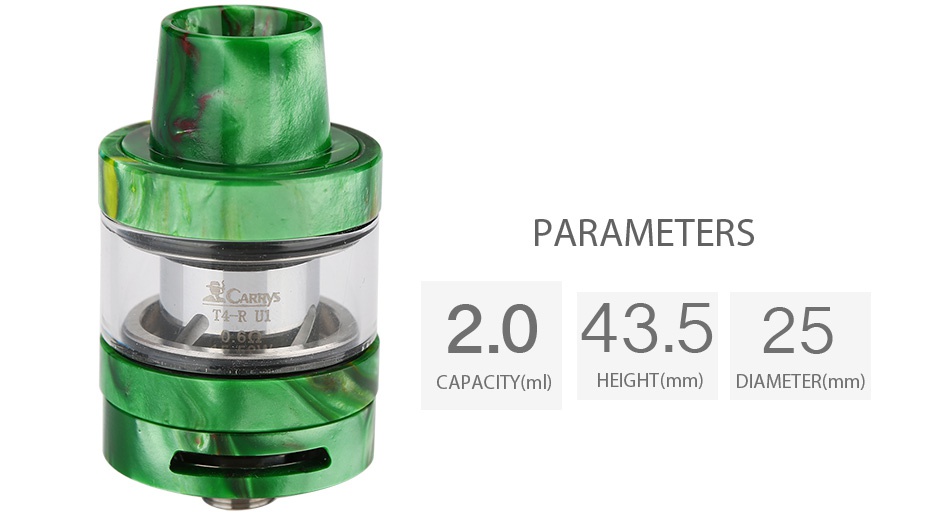 CARRYS T4-R Baby Resin Tank 2ml contains
1 x T4-R Tank Baby
1 x T4-R U1 0.6ohm coil (15-50W, pre-installed)
1 x T4-R U2 1.5ohm coil (10-25W)
1 x Extra Pyrex Glass Tube
5 x Silicone Rings
1 x User Manual
Simple packing. Customary Packing from the factory, the packing is subject to change without notice.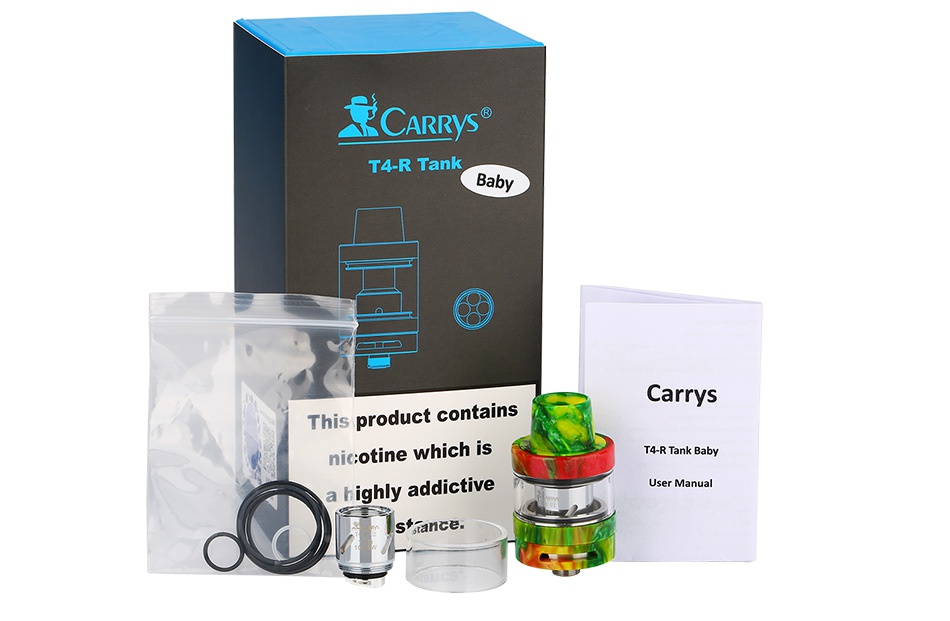 Note: The Resin Tank comes in a fashionable looking and each one has its own unique psychedelic pattern. We could not guarantee the product has the same pattern and color as that in pictures. We can only ship orders randomly. Hope you can understand.
510 thread
It's an empty cartomizer, you still need order e-juice e-liquids to use it.
The replacement U1 and U2 coils are also available in VapeNico.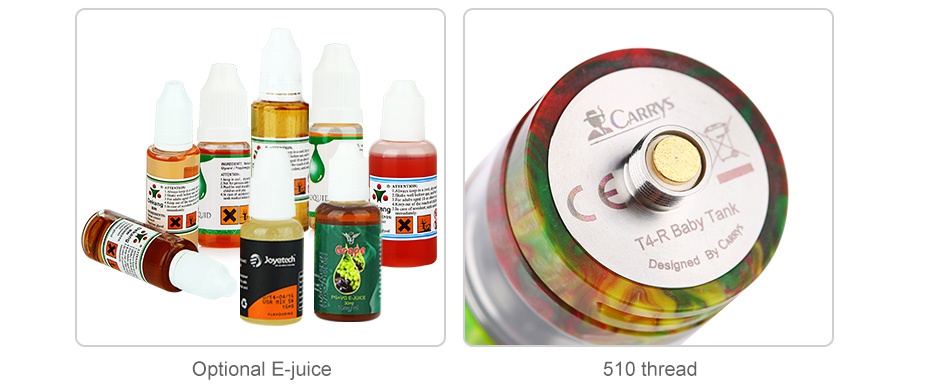 Features
Unique full resin appearance
Convenient top filling design
Adjustable bottom airflow
All-new U1 and U2 coil heads