About Aspire Spryte Pod 2ml/3.5ml
Aspire is a rising sensation in the world of e-cigarettes and is well on its way to becoming a well-known vaping brand. Currently, aspire is focused on providing the high quality batteries and cartomizers. The most popular products of Aspire are Aspire CF battery series, and Nautilus Mini Series. Being a revolutionary in its field, Aspire is aiming to lead electronic cigarette to level higher than ever before.
Spryte Starter kit - the latest AIO pod system released by Aspire is the perfect example of 'handy and stylish'. It is sleek and stylish, and it comes in 5 different colors - blue, black, purple, grey, and green. It has an easy-to-fill pod with a capacity of 3.5ml/2ml. This one adopts the classic BVC coils and it not only includes a regular 1.8ohm regular coil but it also includes a 1.2ohm coil for nicotine salts.
Specification
Parameters
Capacity: 2ml(TPD Edition)/3.5ml(Standard Edition)
Coil: 1.8ohm BVC coil
Quantity: 1pc/pack

Feature
2ml/3.5ml Capacity with Bottom Refill Design
Unique 1.8ohm BVC Coil for best flavor
Adjustable Bottom Airflow Design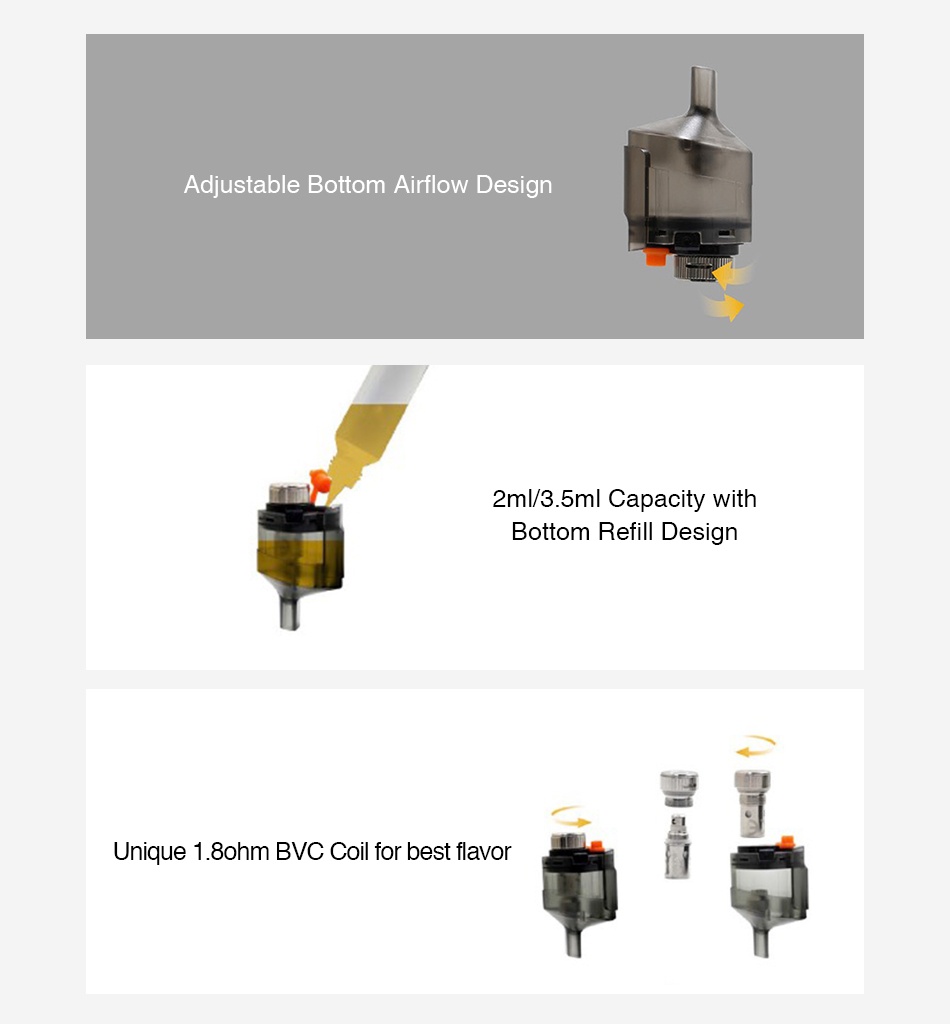 Packing
Aspire Spryte Pod 2ml/3.5ml contains

Standard Edition
1x Aspire Spryte Pod 3.5ml
1x 1.8ohm BVC coil
1x User Manual

TPD Edition(with child lock/ without child lock)
1x Aspire Spryte Pod 2ml
1x 1.8ohm BVC coil
1x User Manual
Simple packing. Customary packing from the factory, the packing is subject to change without notice.
Order Tips
You can select the vape juice here.
The Aspire Spryte Starter Kit and the Aspire BVC Coils are also available in VapeNico.