About Aspire Atlantis Subohm Tank 3ml
Aspire is a rising sensation in the world of e-cigarettes and is well on its way to becoming a well-known vaping brand. Currently, aspire is focused on providing the high quality batteries and cartomizers. The most popular products of Aspire are Aspire CF battery series, and Nautilus Mini Series. Being a revolutionary in its field, Aspire is aiming to lead electronic cigarette to level higher than ever before.
The Atlantis series of Aspire is a stunning line of accessories like Atlantis, Atlantis EVO, Atlantis 2, Atlantis Mega, and others. The double wicking efficiency of the product when coupled with the lower positioned wick points result in ultra-effective juice flow which only adds to the great flavors of the vape. It has an innovative tank system that provides the users with an improved and adjusted airflow, a massive 5ml e-liquid capacity, and a lot more.
Aspire Atlantis Tank Kit with Sub Ohm Coil
Product Instructions
Parameters
Capacity: 2ml
Size: 22mm * 70.3mm
Tank: Pyres Glass
Base hardware: stainless steel
Available resistance: 0.5ohm (20-30W)
Aire hole size: 2mm, 2.8mm, ellipse 6*2.6mm, ellipse 9*2.6mm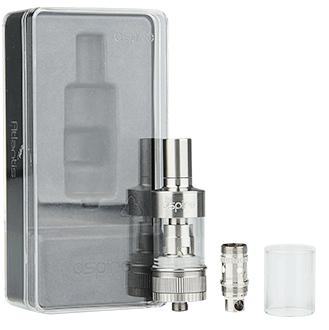 This product comes with
1 x complete Atlantis
1 x replacement glass tube
1 x replacement atomizer 0.5ohm
Simple packing. Customary Packing from the factory, the packing is subject to change without notice.
Detailed Instructions
drip tip, upper hardware, tube, sub ohm coil, base hardware

Features
1. Wire made in USA
2. Patented Aspire BVC technology
3. Sub ohm 0.5ohm coil
4. Cloud vapor production
5. Extreme enjoyable taste
6. Upgraded adjustable airflow system
7. Unique anti-leakage design
8. Special designed drip tip


Operation Guide
How to use
1. Turn upside down the cartomizer, and then screw off the bottom hardware.
2. Use the syringer or dropper to fill less than 5ml e-liquid into the space between the glass tank and the center metal tube. Do not overfill it.
3. Carefully screw on the bottom hardware, connect it with the battery and enjoy it.

How to control the Airflow
4 different airflow hole sizes: 2mm, 2.8mm, ellipse 6*2.6mm, ellipse 9*2.6mm . You can rotate the airflow control valve to choose the most comfortable one.



How to replace the coil unit/coil head
Turn upside down the cartomizer, then screw off the connector. Take out the old coil unit from the bottom base, replace with new one. So easy!
Sellers/Distributors please do let your customers know how to use this cartomizer correctly.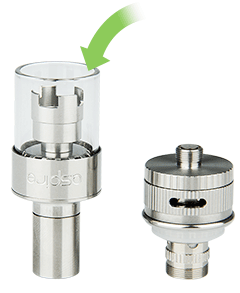 Order Tips
It's compatible with 510/eGo threading batteries.
It's an empty cartomizer, you still need order e-juice e-liquids to use it.
You can use Atlantis coil or Triton coil with it. (Atlantis is not compatible with Triton Mini coil. )Â
There is CE mark on the coil.