About Aspire Athos Subohm Tank 4ml/2ml
Aspire is a rising sensation in the world of e-cigarettes and is well on its way to becoming a well-known vaping brand. Currently, aspire is focused on providing the high quality batteries and cartomizers. The most popular products of Aspire are Aspire CF battery series, and Nautilus Mini Series. Being a revolutionary in its field, Aspire is aiming to lead electronic cigarette to level higher than ever before.
Athos by Aspire is surely an innovative Subohm tank especially designed for those who prefer dense clouds as well as top notch flavor. This product comes with a 25mm diameter as well as an e-liquid capacity of 4ml/2ml. It has a very convenient top filling, adjustable bottom airflow, tri-coil head, a unique penta-coil head, and other features that bring an exciting new flavor and dense vapors to your vaping experience.
Aspire Athos Subohm Tank
Product introduction
Parameters
Size: 25 x 58mm(4ml)/ 25 x 51mm(2ml)
Capacity: 4ml(Standard Version)/ 2ml(TPD Version)
Coil: A3 0.3ohm Kanthal AF Tri-coil head (60-75W);
A5 0.16ohm Penta-coil head(100-120)(Pre-installed)
Thread: 510 thread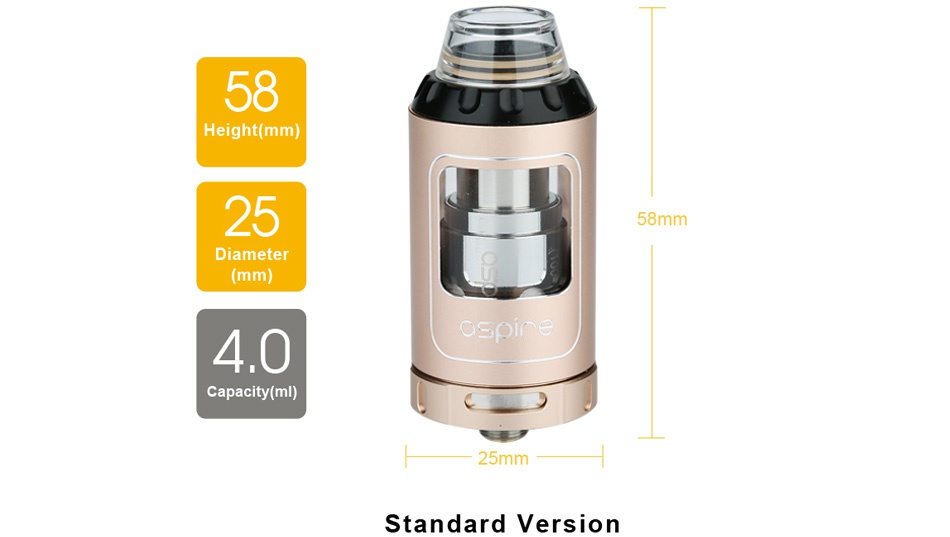 Aspire Athos Subohm Tank 4ml/2ml contains
1 x Cleito EXO Tank with A5 (Penta-coil head) pre-installed
1 x Extra A3 (0.3ohm Kanthal AF Tri-coil head)
1 x Extra Drip tip (Delrin wide bore drip tip)
1 x Glass Tube
12 x Extra O-rings
1 x Warranty Card
1 x User Manual
Simple packing. Customary Packing from the factory, the packing is subject to change without notice.
It's compatible with 510 threading batteries.
It's an empty cartomizer, you still need order e-juice e-liquids to use it.
Compatible with 200W Aspire Speeder TC MOD.
You also can buy the replacement Athos A3 and A5 coil heads in VapeNico.


Features
25mm diameter and 4ml/2ml e-liquid capacity
Convenient top filling design
Large adjustable bottom airflow
Unique penta-coil head and tri-coil head
Tremendous flavor and vapor production
Fully disassembled parts for easy cleaning and maintenance
4ml Standard Version and 2ml TPD Version options