About Asmodus Colossal 80W Touch Screen TC Box MOD
Asmodus is still a relatively new company but they are offering quality vaping experience as an American distributor and manufacturer. The company is based out of Los Angeles California and they deliver a series of select products with high quality warranties. If you are seeking locally made USA products, we can offer the best price here.
Colossal stands as a highly powerful box mod that definitely earns its name. The newest version is powered by a GX 80 HUT V2 chipset. This mod can up our up to 80 W as well as offer TFR and temp curve modes. The touchscreen device delivers a slide down function for easy adjustments on the fly. Enjoy custom easy vaping here.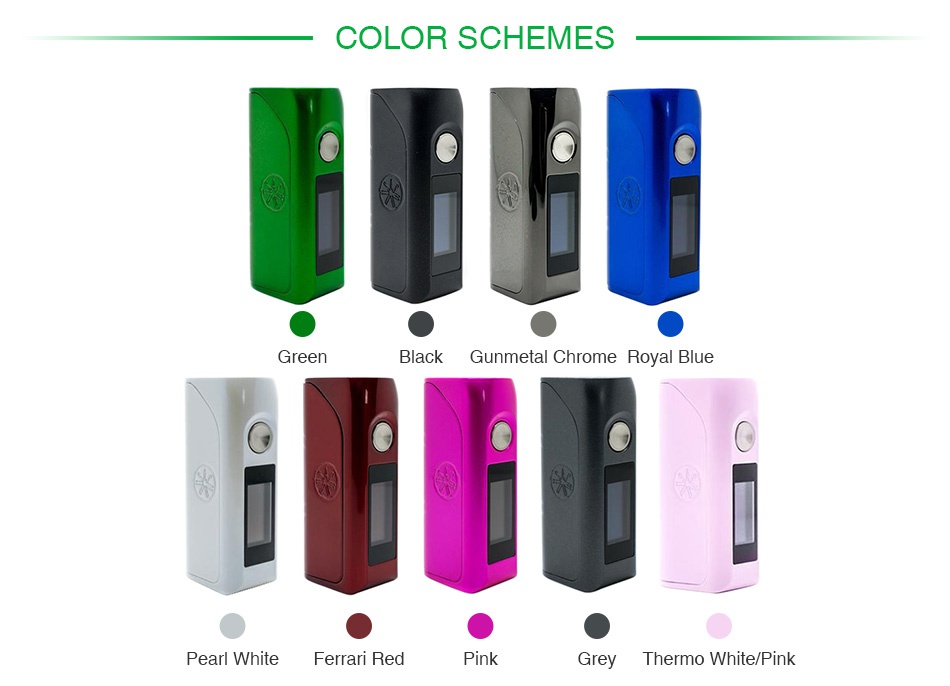 Specifications
Dimensions: 76 x 25 x 40mm
Chipset: GX 80 HUT v2 chip
Battery: 1x 18650 (not included)
Resistance range: 0.1-3.0ohm
Mode: VW/TC/TCR/TFR/Curve
Output power range: 5-80W (power mode); 5-60W (TC mode)
Maximum power output: 7.5V
Maximum output current: 35A
Input voltage range: 3.2-4.2V
Working current of the display screen: 25mA
Standby working current: <350uA
Firing cut off timer: 10 seconds
Standby time: 18 seconds
Work efficiency: 94%
Thread: 510
Features
Compact single 18650 mod with 80W output
Various VW/TC/TCR/TFR/Curve modes
Capacitive OLED Touch Screen
Advanced GX-80HUT-V2 chipset
Support USB charging
Packing List
Asmodus Colossal 80W Touch Screen TC Box MOD contains
1x Colossal 80W MOD
1x USB cable
1x Manual
Simple packing. Customary Packing from the factory, the packing is subject to change without notice.
Order Tips
510 thread
It doesn't come with 18650 battery, please buy it separately.
Thermo White/Pink: It will be white color in cool area and when you bring it into the sun it will turn dark pink.
Attention: Please note that the package of Colossal 80W MOD has Warnings.
Guarantee
3 months for Colossal MOD. Please check guarantee policy.